In reply to Message (74830)

tall blonde busty Emma wears gets her knee boots soaked - WSM

By WSM Productions - webmaster@wsmproductions.co.uk

Wed 03/10/18 21:40:05 GMT
Website: https://wsmprod.com/updates
---
Another look at one of our longest movies WSM042 running 67 minutes.
We see short haired blonde Emma, with her magnificent boobs, firstly clad in long black dress and knee high leather boots in 21 mins of wet fun, plus enhanced image set W214 with 68 shots.
Then she plays with golden syrup and raspberry sauce for 45 minutes!!!
Plus 87 newly upgraded enhanced images in set S233 – well worth a look!
Movie WSM042 and image sets W254 and S233 are only available on the Subscription site.


How far back can you scroll to review our weekly updates???
To the start of 2017 year?No, no – much further back than that!
(take a look at www.wsmprod.com 'What's New')

Are you aware that WSM now have 285 movies and 456 image sets available for the price of a Subscription?
With Autumn here……what are you waiting for???
CLICK HERE TO VIEW COSTS FOR A SUBSCRIPTION TO THE WEBSITE
SEE ALSO THE WSM ONLINE STORE (no membership required)
Click on movie and page down for full description and sample images, for
50 VINTAGE FILM DOWNLOADS
PLUS 92 New 'WSM Movies & Images' with 1/3rd available on the Subscription site too.
PLUS 16 Movies with Images transferred from the Subscription Website and now also available as Downloads
and XXX section with 70 MOVIES with Images, only available as Downloads.
CLICK HERE TO GO TO THE WSM 'DOWNLOADS -ONLINE STORE'

We also have a UMD STORE and transfer MOVIES and IMAGES regularly
CLICK HERE TO GO TO THE UMD STORE




SUBSCRIPTION WEBSITE
WETLOOK
We have statuesque, blonde, clean shaven Yorkshire lass EMMA in wet shower play.
Now in how many wet sets do you see knee high leather boots worn?
This Movie WSM042 has over 21 minutes of Wetlook in two download streams.
There are only 70 seconds left by the time EMMA has removed both of her boots.
So if you like wet knee boots……this is for you!
Emma wears a black strapless dress slashed to the thigh with a matching undie set of bra and shorts.
She flirts with the camera but enjoys her teasing, taking 1 minute to remove her dress, almost a minute to remove her knickers and almost 2 minutes to remove her boots.
So if you like a model who is all woman, acting coy and sexy, and showing her experience in a slow, sultry strip…..then this is for you!
We show you 2 Clips from Movie WSM042.
>>>>> SEE CLIP
>>>>> SEE CLIP


We have published an Image set of EMMA in the shower from Movie WSM042.
The images for set W254 have been enhanced to full screen and now number 68.
Fabulous pics of a wonderful blonde from a great shoot from July 2008.
We show you 5 sample pics from this set.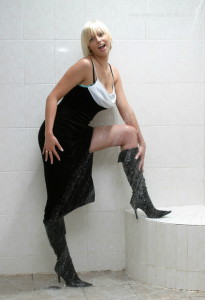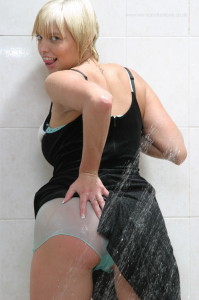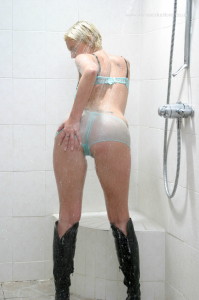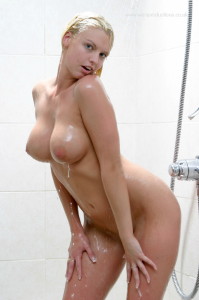 Now this time of year is a great time to join the Subscription website with access to 285 movies and 456 image sets, see costs below:
CLICK HERE TO VIEW SUBSCRIPTION COSTS




We continue to take SUBSCRIPTION payments in £ Sterling, US dollars and Euros, for membership of the WSM Website.
The Subscription site does not include access to new movie/images Downloads in the Online Store, which we have added during the last two years,or any XXX movies.
Since April 2017, Movies and Image sets added to the WSM Online Store under 'WSM Movies & Images' are added also to the Subscription site, 2 years after being posted as a Download.
Look at the JOIN NOW page to see our great value for 30 day, 3 month and 6 monthly Subscriptions as for a Subscription you can access:
285 Movies averaging 30 minutes each, including 18 Messy Wrestling Movies and 76 Custard Couple Movies, (which include 26 joint productions with WSM),
15 vintage movies and 176 normal WSM movies (excluding 26 duplicated joint production movies with Custard Couple).
PLUS 47,613 Images in 456 sets (being 162 W + 212 S + 82 M).
But if you want to see all these Movies and Image sets, then you need to take a Subscription to become a Member.
Click here to see the amazing value Join costs!