Shiny Leotard, Expensive Hosiery, Thigh High Boots
"Low Cut Leotard, High End Hosiery and Thigh High Boots, drenched!"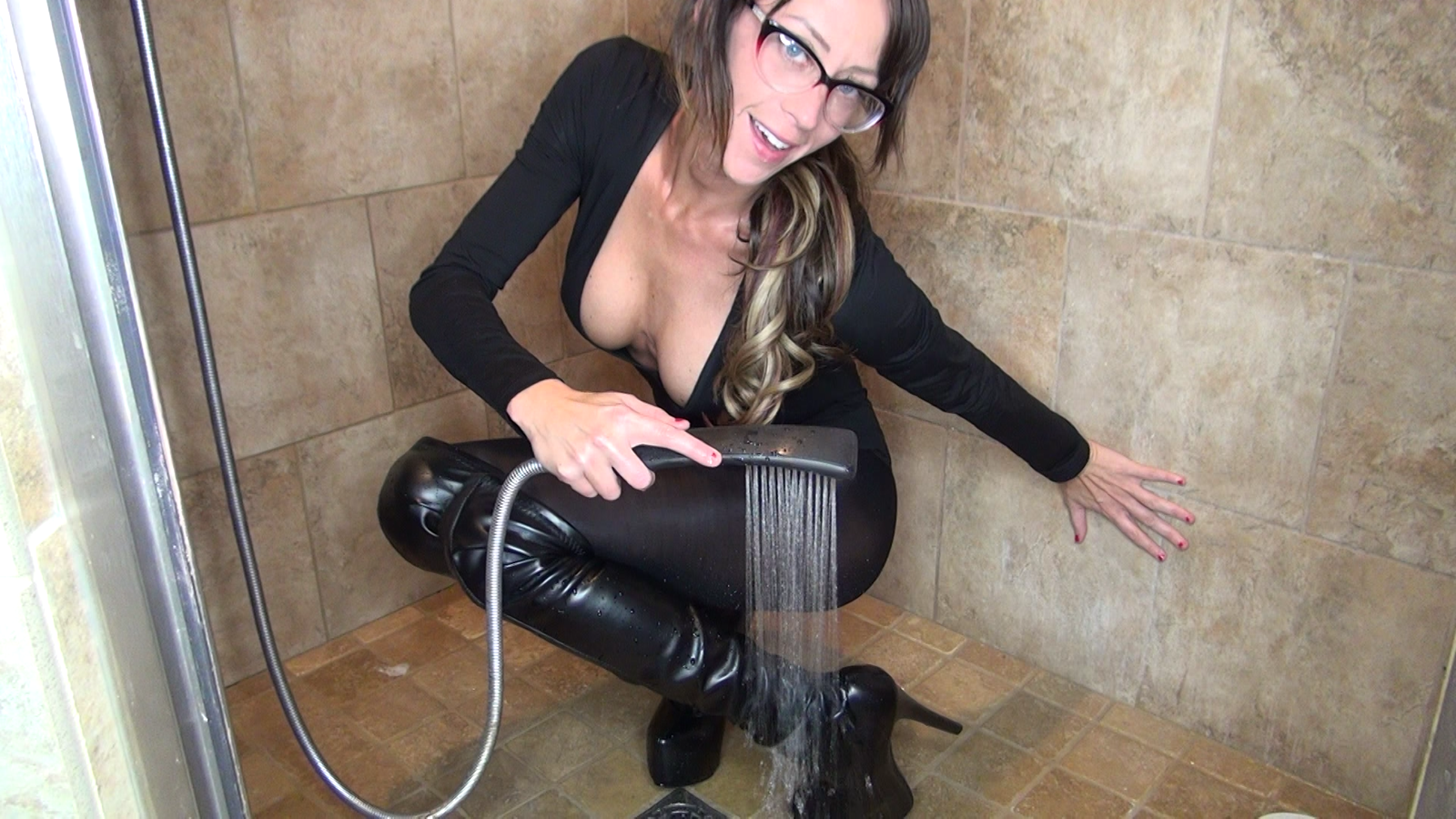 watch me in my one piece cotton black leotard, expensive high denier hosiery and thigh high black boots and glasses get drenched in the shower and turn in to a shiny, glistening sex kitten! The whole outfit appeals to me, as i love the low cut of the leotard but it still has the long sleeves and hugs my body perfect. It shows cleavage but just enough. ;) the hosiery i have on were some i purchased just to shoot this for myself. High denier and gorgeous once they started getting wet! Shining! My thigh high boots are super high and I admit, sometimes hard for me to stand in but getting in this shower and knowing how awesome I was going to look and feel in this outfit...it all flowed together. I had to fill up my pvc thigh high boots with water, of course. Wiggle my Nylon covered toes in my boots and soaked them and my hosiery before even thinking about taking them off to show off my feet in my hosiery. I pull my hair down from my curly little side ponytail and show off my long, dry, curled hair and then proceed to flip it back and soak myself down. It felt amazing going over my face and into my mouth, down my chest and into my leotard. The leotard was cotton so it soaked all the water right up and just proceeded to glisten, stick to my body and get almost a silky feel up against me. I take my boots off after and lay back and rub all over myself because I am drenched, i feel so sexy and my feet feel amazing in these one of a kind hosiery! I turn around and soak my hair to where it sticks to my back and runs water, shimmering down my ass, and onto my Nylons and my feet. My hair is thick and long so it makes a perfect cascade of water running down the back of me and feels amazing! I enjoy the shower and soak and tease you, talk to you, giggle with you until I urge you to make sure to look me up and down ;) Even though you have gotten quite the show, I want to make sure i know you were looking ;) enjoy!
Starring the following model:
Screens:
Sample Photos: