Nicky Phillips becomes the 'Custard Belle of the Ball' in HD 25 minute movie WSM247 plus 150 fabulous full screen images in set S442.This becomes the 57th transfer after two years on our Download site to now become available on our Subscription site.
For WetlookDee clad in black, provides some stunning wet clothed and wet hair shots to become a wet delight in river play in 26 minute movie WSM060 plus 167 enhanced pics.
Also in this Update:
The Top 10 countdown of the best selling movies from our UMD Store continues, as movie number 6 is revealed as another Slapstick movie.
For Wetlook, mature Asian lady Jade is soaked in Cooking Oil in 29 min HD movie WSM207, plus 105 enhanced images in set S385.

We take Subscriptions to our Website – Memberships extending for up to 6 months are available. We now have 294 Movies plus 467 Image sets for instant access.
CLICK HERE TO TAKE A SUBSCRIPTION TO THE WEBSITE
SEE ALSO THE WSM ONLINE STORE (no membership required)
Click on movie and page down for full description and sample images, for
50 VINTAGE FILM DOWNLOADS
PLUS 95 New 'WSM Movies & Images' with 54 also available on the Subscription site.
PLUS 16 Movies with Images transferred from the Subscription Website and now also available as Downloads
and XXX section with 74 MOVIES with Images, only available as Downloads.
CLICK HERE TO GO TO THE WSM 'DOWNLOADS – ONLINE STORE'

We also have a UMD STORE and transfer MOVIES and IMAGES regularly
CLICK HERE TO GO TO THE UMD STORE




SUBSCRIPTION WEBSITE
WETLOOK
Dee clad in black, provides some stunning wet clothed and wet hair shots to become a wet delight in river play in 26 minute movie WSM060 plus 167 enhanced pics.
REVIEW OF MOVIE WSM060
Movie plus Image set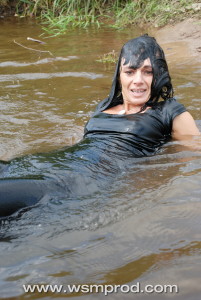 Dee in classic Wetlook river play
Run-time 26 mins 03 secs

2 Sample Clips and 2 Streams – Wetlook

Stream 1 commences as Dee enters a shallow river watched by two cows!
The wind is blustery but Dee is not afraid to get wet.
She wears a black sleeveless top, black trousers, ankle boots with socks……..but no knickers!
'See how lovely and shiny these pants go when they are wet', she says.
The pants do get a good splashing.
Then Dee sits in the river before lying down so her top is wetted.
Soon she is lying back wetting her hair and indulging in hair play – see CLIP 1 (wet hair).

>>>>> SEE CLIP

In less than 8 mins she goes under the water for fully clothed wet play, with some great hair shots.
There are some glorious wet clothed shots as in effect, you are in the river with Dee.
In Stream 2, Dee dives into the river 4 times plus 2 backward falls.
After 5 mins she removes her top and continues her river play.
She cavorts in the river shallows – see CLIP 2 (topless with some good wet trouser bum shots).

>>>>> SEE CLIP

After 9 mins she removes her trousers and ankle boots, then lastly her black socks.
For the final 4 mins Dee plays in the river shallows while nude.
She finishes with some raunchy poses as the sun has come out to bless her nakedness.
Wow! Remarkable entertainment from a sexy lady.
Dee's Wetlook in the river with Streams 1 and 2 runs 26 minutes and there you will see this all wet WSM woman! People, be warned of some very erotic content, but not in the Clips we show.

The summer is the time of year to go OUTDOORS.
We feature a great wet image set of 167 shots of DEE in a small river, set W256.
I continue to be amazed at how many supposed "wet shots" on sites fail to get the model properly wet.
For WSM, wet means fully wet, always including the hair!
In set W256 Dee wears a black sleeveless top, black trousers and black ankle boots.
There are great close-up and wet hair shots.
Anyone into sexy bums, then this is for you!
The set progresses from dry and fully clothed to very, very wet, then a gradual strip to end with some fully naked shots.
The last 19 shots are totally naked and some are very raunchy indeed!
This image set has been reworked and enhanced to full screen shots.
We show you 6 sample shots from Dee's W256 set.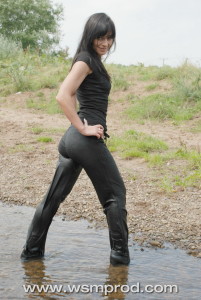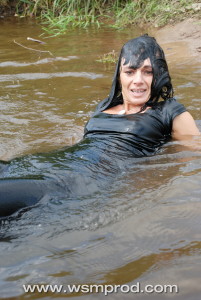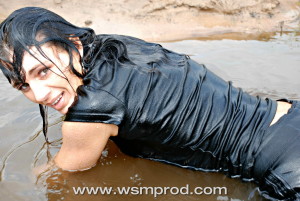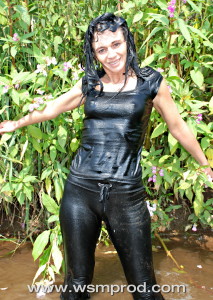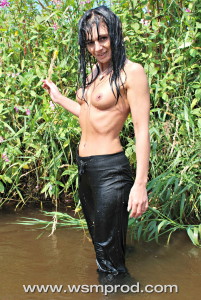 Now what remarkable value you get with movie WSM060 for after 26 mins of Dee in the river, there is a separate movie of Asian Jade in an oily paddling pool that runs 22 mins.

On the https://wsmprod.com website, movie WSM060 and image set W256 are available if you are a member of the Subscription site.
But this is only one movie and one image set from our Subscription section which has 294 Movies and 467 Image sets all available just for the price of a subscription!
How much does it cost?
CLICK HERE TO VIEW SUBSCRIPTION COSTS






We continue to take SUBSCRIPTION payments in £ Sterling, US dollars and Euros, for membership of the WSM Website.
The Subscription site does not include access to NEW movie/images Downloads in the Online Store, which we have added during the last two years,or any XXX movies.
Since April 2017, Movies and Image sets added to the WSM Online Store under 'WSM Movies & Images' are added also to the Subscription site, 2 years after being posted as a Download. Our 1st addition was originally posted as a Download on 18th April 2015.
Look at the JOIN NOW page to see our great value for 30 day, 3 month and 6 monthly Subscriptions as for a Subscription you can access:
294 Movies averaging 30 minutes each, including 18 Messy Wrestling Movies and 83 Custard Couple Movies, (which include 28 joint productions with WSM),
15 vintage movies and 178 normal WSM movies (excluding 28 duplicated joint production movies with Custard Couple).
PLUS 49,748 Images in 467 sets (being 164 W + 219 S + 84 M).
But if you want to see all these Movies and Image sets, then you need to take a Subscription to become a Member.
Click here to see the amazing value Join costs!