For Wetlook, we look at two image only (no movies) sets of Mrs. Custard Couple both shot outdoors with: 95 Enhanced images titled 'Holiday Wet Fun' in set W315.
Plus set W313 with 64 Enhanced images titled 'Waterfall'.


How far back can you scroll to review our weekly updates???
The answer is that you can view all our weekly updates back to 2nd May 2015!
So 180 weekly updates (and growing), all available for nothing!
(take a look at www.wsmprod.com 'What's New')

Are you aware that WSM now have 287 movies and 458 image sets available just for the price of a Subscription?
With Autumn here……what are you waiting for???
Definitely time to explore our Subscription site.
This is the Best WAM Value on the internet!
CLICK HERE TO VIEW COSTS FOR A SUBSCRIPTION TO THE WEBSITE
SEE ALSO THE WSM ONLINE STORE (no membership required)
Click on movie and page down for full description and sample images, for
50 VINTAGE FILM DOWNLOADS
PLUS 92 New 'WSM Movies & Images' with 1/3rd available on the Subscription site too.
PLUS 16 Movies with Images transferred from the Subscription Website and now also available as Downloads
and XXX section with 71 MOVIES with Images, only available as Downloads.
CLICK HERE TO GO TO THE WSM 'DOWNLOADS -ONLINE STORE'

We also have a UMD STORE and transfer MOVIES and IMAGES regularly
CLICK HERE TO GO TO THE UMD STORE




SUBSCRIPTION WEBSITE
WETLOOK
We take a look at 2 Image only sets of Mrs. Custard Couple, both shot outdoors.
In both these sets Mrs. CC describes what happened.
If you think CC take time off on holiday, well such a thing is unthinkable!
Here is the proof! But let Mrs. CC tell you about it.
"Hurrah its holiday time!
Away from the daily commitments, with warm weather, warm seas and cocktails with a barbecue on the beach, I was feeling decidedly horny!
Dressed in my sheer white dress, bra and knickers, I had seen Mr. CC slip the camera into his bag in hopeful expectation of wet delights to come!
My outfit set my thoughts racing and before long my panties were soaked by the anticipation.
We took an evening stroll by the sea which was glistening as the fiery sun descended.
We were both ready for some sexy soaking fun.
Entering the sea, we did not care that other people were around us.
In fact it added to our excitement!
I wasted no time in submerging myself into the crystal clear water.
My dress was soon sheer and my bra hugged me as my panties clung to my ass – it just felt fantastic!
I slowly stripped after enticing my man to join me for a fully clothed swim.
Mr. CC was unable to contain himself as he enjoyed rubbing my tits and clit in the water…..raising my horniness level to 'must have'!
My walk back to the hotel in my dripping dress fuelled my excitement further.
Ooh! Nothing is more soothing on a warm summer's evening than to enjoy a sensual wet clothed fuck! Not that the dress lasted long, as in minutes my wet dress was ripped apart as Mr. CC spent his lust!"
So another great wet adventure!
You should try a wet clothes session on your next sunny holiday!"
This is an Image only set as no video was taken.
Image set W315 'Holiday Wet Fun' was shot in our favourite style, outdoors!
We have previously reworked this set, ending up with 95 Enhanced (Full Screen) pics.
We show you 5 sample shots for your enjoyment.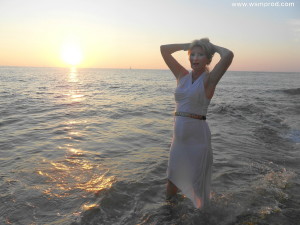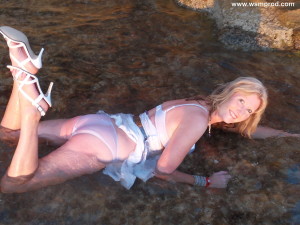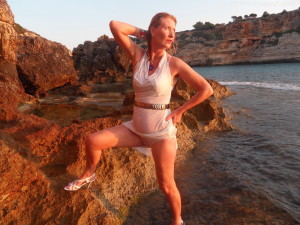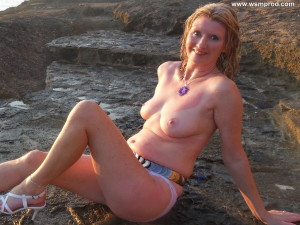 Our 2nd image only set recounts a walk in the country and a waterfall.
This shows how CC are always on the look-out for some wet or messy fun…….and another photo opportunity!
But let Mrs. CC tell us more about this photoset:
"One of the really hot days of 2012 presented the opportunity for Mr. CC and I to go for a walk in the countryside.
Of course, I was expectantly dressed in a summer dress, sheer slip, white underwear, stockings and shoes.
We happened to come across a beautiful sight of a running waterfall set high up a hillside.
'Go on Mrs. CC' Mr. CC urged me. 'Let's see you get wet for me!'
Stripping off my bra and pants and down to my slip, stockings and shoes, I entered the cold water soaking my slip until it was sheer!
What a delight as I let the water cascade over me!
Mr. CC produced his pocket camera (which is why the shots are of a lower quality).
Then he took the opportunity to capture my shimmering body in the water as I soaked myself!
Mr. CC urged me to reveal myself more and more!
The excitement and feel of my cold wet slip soon had me aroused!
Mr. CC beckoned me over…..I slithered across the rocks still only dressed in my wet slip.
He bent me over a big rock and plunged his manhood inside me!
In no time at all he had emptied his cum up me, ripping open my slip as he did!
'Just what I wanted' I purred as we returned back down the hillside, with me in a very wet and tattered slip!"

So the moral of this tale is always to be on the lookout for a good opportunity as both Mr. and Mrs. CC made their wishes come true!
We show you 5 sample shots from Mrs. CC's enhanced Waterfall set W313.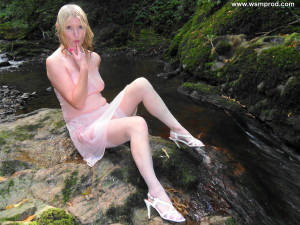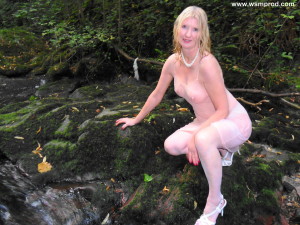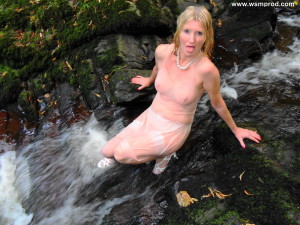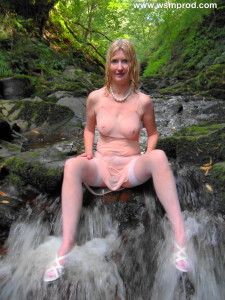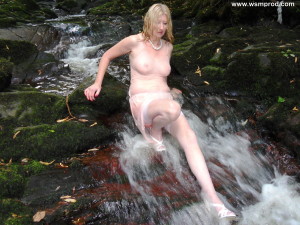 IF YOU ARE A MEMBER OF OUR SUBSCRIPTION SITE, THEN YOU CAN CHECK THESE TWO GREAT IMAGE SETS NOW!

If you are not a Member then with Autumn drawing in, this is a great time to join the Subscription website with access to 287 movies and 458 image sets, see costs below:
CLICK HERE TO VIEW SUBSCRIPTION COSTS




We continue to take SUBSCRIPTION payments in £ Sterling, US dollars and Euros, for membership of the WSM Website.
The Subscription site does not include access to new movie/images Downloads in the Online Store, which we have added during the last two years,or any XXX movies.
Since April 2017, Movies and Image sets added to the WSM Online Store under 'WSM Movies & Images' are added also to the Subscription site, 2 years after being posted as a Download.
Look at the JOIN NOW page to see our great value for 30 day, 3 month and 6 monthly Subscriptions as for a Subscription you can access:
287 Movies averaging 30 minutes each, including 18 Messy Wrestling Movies and 77 Custard Couple Movies, (which include 26 joint productions with WSM),
15 vintage movies and 177 normal WSM movies (excluding 26 duplicated joint production movies with Custard Couple).
PLUS 48,050 Images in 458 sets (being 162 W + 214 S + 82 M).
But if you want to see all these Movies and Image sets, then you need to take a Subscription to become a Member.
Click here to see the amazing value Join costs!