Big boobed Jenny was one of our special treasures! Enjoy again when she plastered herself in Chocolate Swirl with 24 minute movie WSM087.
We have reworked and enhanced her Swirl photoset S271which now has 77 shots.
What has WSM become quite renowned for?
Photosets! We journey back to our early days to see one of our brightest stars Jane in two outdoor sets from 1981 as a girl guide, then recovering her hat from the river.
Plus 87 newly upgraded enhanced images in set S233 – well worth a look!
Movie WSM087 and image sets S271 plus W033 and W036 are only available on the Subscription site.

How far back can you scroll to review our weekly updates???
To the start of 2016 year?No, no, no – even further back than that!
(take a look at www.wsmprod.com 'What's New')

Are you aware that WSM now have 286 movies and 457 image sets available for the price of a Subscription?
With Autumn here……what are you waiting for???
CLICK HERE TO VIEW COSTS FOR A SUBSCRIPTION TO THE WEBSITE
SEE ALSO THE WSM ONLINE STORE (no membership required)
Click on movie and page down for full description and sample images, for
50 VINTAGE FILM DOWNLOADS
PLUS 92 New 'WSM Movies & Images' with 1/3rd available on the Subscription site too.
PLUS 16 Movies with Images transferred from the Subscription Website and now also available as Downloads
and XXX section with 70 MOVIES with Images, only available as Downloads.
CLICK HERE TO GO TO THE WSM 'DOWNLOADS -ONLINE STORE'

We also have a UMD STORE and transfer MOVIES and IMAGES regularly
CLICK HERE TO GO TO THE UMD STORE



SUBSCRIPTION WEBSITE
WETLOOK
WSM strive to bring you some great image sets.
WSM are suffering now, as there are no funds to prepare many great W, S and M sets from the 80's and 90's (before video cameras became available).
Anyone wish to sponsor an image set for either W, S or M?
But this is a no lose sponsorship as you receive a free WSM Subscription as well and have the satisfaction of seeing your own WSM photoset.
If interested in investing £20 to £30, then write for details to webmaster@wsmprod.com

We look again at two outdoor image sets from 1981 of the lovely JANE.
Take a simple idea and express it simply to achieve great results.
JANE was the enthusiastic model, aided by her photographer Derek.
Witness the infancy of WSM Productions!
This first set of Jane was shot outdoors in 1981 as set W033 and contains 35 images.
Jane seeks out the freshest water from the small river in her Girl Guide set with fully authentic uniform.
The shots are more teasing and naughty, with her playing while clothed in the water.
There are quite a number of topless shots plus a very hairy ending!
We boldly decided to enhance the original shots so representing them in a larger format.
The content is great fun and quite daring for 1981.
We show you 3 sample Images from revised set W033.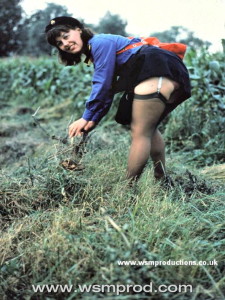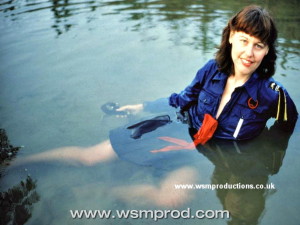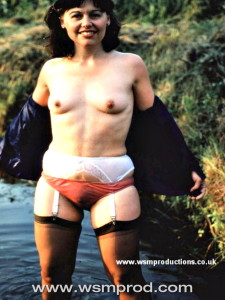 Image set W036 of Jane has 35 shots.
A bit like looking at silent movies as this set is images only without a movie.
Shot in 1981 it does give detailed evidence about model behavior at that time.
I suppose it was difficult to make such a shoot.
There was very little like it……..and ending with 6 topless shots plus one nude shot……all outdoors!
So we accept it for what it is……..as a first attempt at Wet Shots in the UK.
And did you know that WSM originally commenced as Wet Shots?
But at least the model dressed for the set and tried hard to project a new concept!
Jane loses her hat in the river and then has to retrieve it.
Quite cute in its own way, but it joins the other Jane Wet sets we hold and are available on our Subscription site, namely:
W002, W003, W014, W015, W016, W026 and W033 above.
Jane lived in Essex.
See if Jane appeals as we show 3 sample shots from new image set W036.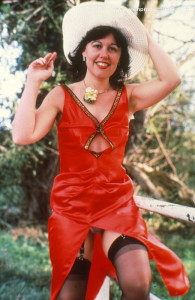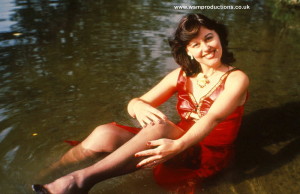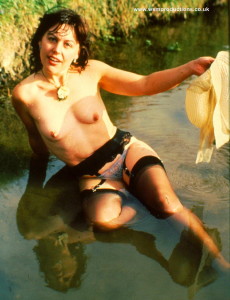 With Autumn drawing in this is a great time to join the Subscription website with access to 286 movies and 457 image sets, see costs below:
CLICK HERE TO VIEW SUBSCRIPTION COSTS


We continue to take SUBSCRIPTION payments in £ Sterling, US dollars and Euros, for membership of the WSM Website.
The Subscription site does not include access to new movie/images Downloads in the Online Store, which we have added during the last two years,or any XXX movies.
Since April 2017, Movies and Image sets added to the WSM Online Store under 'WSM Movies & Images' are added also to the Subscription site, 2 years after being posted as a Download.
Look at the JOIN NOW page to see our great value for 30 day, 3 month and 6 monthly Subscriptions as for a Subscription you can access:
286 Movies averaging 30 minutes each, including 18 Messy Wrestling Movies and 76 Custard Couple Movies, (which include 26 joint productions with WSM),
15 vintage movies and 177 normal WSM movies (excluding 26 duplicated joint production movies with Custard Couple).
PLUS 47,944 Images in 457 sets (being 162 W + 213 S + 82 M).
But if you want to see all these Movies and Image sets, then you need to take a Subscription to become a Member.
Click here to see the amazing value Join costs!