One of our most stunning models was KASIA.
We review again her Wet shoot movie WSM155 which was followed by a Messy custard shoot.
Using video grabs, we have 101 Wet images in set W314 and 94 Messy images in set S343.
Movie WSM155 plus the two image sets W314 and S343 are available on the Subscription site.


We take Subscriptions to our Website – Memberships extending for up to 6 months are available.
CLICK HERE TO VIEW COSTS FOR A SUBSCRIPTION TO THE WEBSITE
SEE ALSO THE WSM ONLINE STORE (no membership required)
Click on movie and page down for full description and sample images, for
50 VINTAGE FILM DOWNLOADS
PLUS 91 New 'WSM Movies & Images' with 1/3rd available on the Subscription site too.
PLUS 16 Movies with Images transferred from the Subscription Website and now also available as Downloads
and XXX section with 70 MOVIES with Images, only available as Downloads.
CLICK HERE TO GO TO THE WSM 'DOWNLOADS -ONLINE STORE'

We also have a UMD STORE and transfer MOVIES and IMAGES regularly
CLICK HERE TO GO TO THE UMD STORE




SUBSCRIPTION WEBSITE
WETLOOK
Movie WSM155 has stunning brunette Kasia with 21 mins of Wet followed by 26 mins of Custard play.
Kasia (also known as Katie) commences in the shower.
Movie WSM155 is divided into 2 parts.
Kasia wears an unusual colour co-ordinated outfit.
She has an incredible body with fabulous legs and boobs!
This is Wet Tease.
Kasia slowly gets wetted with shoes, stockings/legs, arms, bust, skirt, bum and hair being well wetted.
There is much to admire.
7-41 top off
9-26 skirt off
11-56 bra off
Stream 2 commences as we enjoy the sight of Kasia's very fine pair of boobs.
2-23 shoes off
2-59 stockings off
5-22 knickers off
The final 4 minutes are nude.
7-04 soaps up her body
Kasia ends sitting on a plinth to rinse herself off.
We show you 2 Clips of Kasia from movie WSM155.
>>>>> SEE CLIP
>>>>> SEE CLIP


Image set W314 has 101 video grabs of Kasia under the shower.
This is one instance when the movie is far, far superior to the image shots.
We show you 5 sample shots of Kasia from set W314.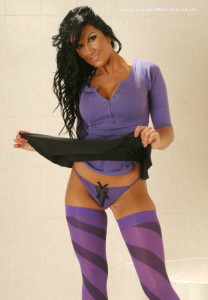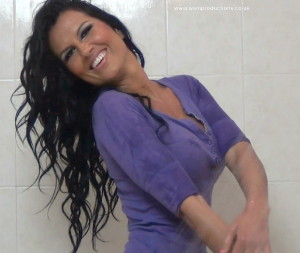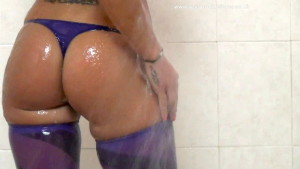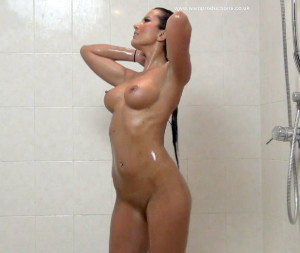 If you take a membership, then besides image set W314 you can see:
47,272 Images covering W, S and M in 453 sets,
plus 282 Movies, including 18 Messy Wrestling Movies & 73 Custard Couple Movies.
No-one offers better value!
Click here to see Join costs!




We continue to take SUBSCRIPTION payments in £ Sterling, US dollars and Euros, for membership of the WSM Website.
The Subscription site does not include access to new movie/images Downloads in the Online Store, which we have added during the last two years,or any XXX movies.
Since April 2017, Movies and Image sets added to the WSM Online Store under 'WSM Movies & Images' are added also to the Subscription site, 2 years after being posted as a Download.
Look at the JOIN NOW page to see our great value for 30 day, 3 month and 6 monthly Subscriptions as for a Subscription you can access:
282 Movies averaging 30 minutes each, including 18 Messy Wrestling Movies and 73 Custard Couple Movies, (which include 25 joint productions with WSM),
15 vintage movies and 176 normal WSM movies (excluding 24 duplicated joint production movies with Custard Couple).
PLUS 47,272 Images in 453 sets (being 162 W + 209 S + 82 M).
But if you want to see all these Movies and Image sets, then you need to take a Subscription to become a Member.
Click here to see the amazing value Join costs!