Mrs. Custard Couple (CC) could not wait to get wet!
She goes straight into the sea still dressed in her office outfit in 18 minute movie CC18 with a terrific 126 enhanced pics in image set W309.


Are you aware that WSM now have 279 movies and 450 image sets available for the price of a Subscription?
Now that is some bargain for this superb library of material!
CLICK HERE TO VIEW COSTS FOR A SUBSCRIPTION TO THE WEBSITE

SEE ALSO THE WSM ONLINE STORE (no membership required)
Click on movie and page down for full description and sample images, for
50 VINTAGE FILM DOWNLOADS
PLUS 90 New 'WSM Movies & Images' with 1/3rd available on the Subscription site too.
PLUS 16 Movies with Images transferred from the Subscription Website and now also available as Downloads
and XXX section with 70 MOVIES with Images, only available as Downloads.
CLICK HERE TO GO TO THE WSM 'DOWNLOADS ONLINE STORE'


We also have a UMD STORE and transfer MOVIES and IMAGES regularly
CLICK HERE TO GO TO THE UMD STORE




SUBSCRIPTION WEBSITE
WETLOOK
It is holiday time so why not take a dip in the sea?
Mrs. Custard Couple (CC) has rushed from work and forgotten her bathing costume!
But who cares? It is time for a wet romp in the sea!
HD Movie CC18 of Mrs. CC in the sea in her office dress runs 18 mins 29secs.
It was shot July 2012.

Stream 1 runs 10 mins 05 secs
We open with Mrs. CC on the beach admiring the sea.
But she is dressed in her work clothes.
She wades into the sea complete with handbag.
Mrs. CC tucks her skirt up to avoid the raging waves!
She tentatively advances into the sea as the surf crashes and roars.
We are unable to hear many of her comments due to the noise of the sea.
We have some good panoramic sea shots as brave Mrs. CC is the only person on the beach.
After 4 mins 40 secs her skirt is hitched to her waist and she starts to become wetter.
She dispenses with her handbag at 5-20 and becomes more adventurous.
Mrs. CC splashes herself and is soon buffeted by the waves – see CLIP 1.

>>>>> SEE CLIP

She kneels in the surf at 6-13 before being pitched full length into the sea.
She just "loves the feel of wet clothes clinging to her."
At 7-28 she removes her jacket.
Clad in a white long sleeved blouse and dark pinafore dress, she sets about getting seriously wet.
She lies in the surf at 8-12 before being swept along by the breaking waves.
At 8-53 she starts to remove her pinafore dress, then she wades ashore to deposit it with her clothes.
Stream 2 runs 8 mins 24 secs
Mrs. CC re-wades into the sea still with her shoes on.
Clad in her matching undie set, suspender belt, stockings and long sleeved blouse, it is certainly a different way to have a sea bathe.
Soon she is crawling in the surf and being pounded by the waves – see CLIP 2.

>>>>> SEE CLIP

She lies facing the beach as the sea pours over her.
Then her blouse is off and she pulls her boobs free from her bra.
Mrs. CC dribbles the wet sand over her stockings.
Her hair is now wet as she lies in the shallows.
After some stretchy leg shots, she wades out again before tumbling into the sea.
Wading further out she reclines then swims in the sea.
Mrs. CC is buffeted by the fierce strength of the rolling waves.
She wades back to shore to her pile of clothes.
She redresses in her blouse, then collecting her sodden dress and jacket.
She stomps off with squelchy shoes further up the sandy beach
 
Image set W309 has 126 shots of Mrs. Custard Couple (CC) dressed in her office wear in the sea.
Now when Mrs. CC gets the urge to get wet in the sea, there is no stopping her!
The weather may not be the best, but she just gets stuck-in ignoring the cold sea.
Once again there is great attention to detail:
A frilly, white, long sleeved, office blouse with matching white handbag.
A pinafore dress and jacket with matching shoes.
Matching bra and panties.
There are some good pics of Mrs. CC being tossed about in the surf.
We see her panties, suspenders and stockings.
Then her pinafore dress is off.
Mrs. CC walks in the surf in her long sleeved white blouse, panties, suspender belt, stockings and shoes.
Now this is a special type of fun.
Many couples talk and dream about it, but how many actually do it?
This is a great picture set with some good close-ups and was only limited due to passers-by.
The original image set of 126 shots has been scrapped.
This is replaced by 126 Enhanced (Full Screen) shots.
Now you can share her wet fun!
We show you 5 sample shots.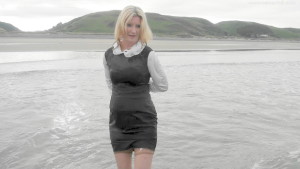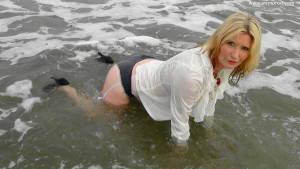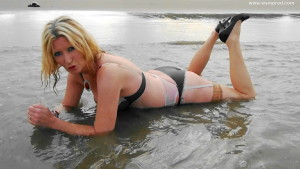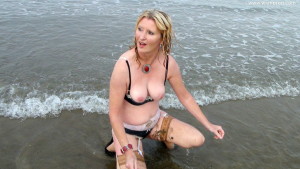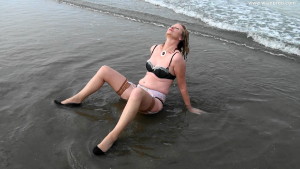 Of course image set W309and movie CC18 are available on the Subscription site.
To join the Subscription website with access to 279 movies and 450 image sets, see cost below:
CLICK HERE TO VIEW SUBSCRIPTION COSTS






We continue to take SUBSCRIPTION payments in £ Sterling, US dollars and Euros, for membership of the WSM Website.
The Subscription site does not include access to new movie/images Downloads in the Online Store, which we have added during the last two years,or any XXX movies.
Since April 2017, Movies and Image sets added to the WSM Online Store under 'WSM Movies & Images' are added also to the Subscription site, 2 years after being posted as a Download.
Look at the JOIN NOW page to see our great value for 30 day, 3 month and 6 monthly Subscriptions as for a Subscription you can access:
279 Movies averaging 30 minutes each, including 18 Messy Wrestling Movies and 72 Custard Couple Movies, (which include 25 joint productions with WSM),
15 vintage movies and 174 normal WSM movies (excluding 24 duplicated joint production movies with Custard Couple).
PLUS 46,912 Images in 450 sets (being 161 W + 207 S + 82 M).
But if you want to see all these Movies and Image sets, then you need to take a Subscription to become a Member.
Click here to see the amazing value Join costs!