We take another look at image set W310 as Mrs. Custard Couple (CC) arrives home hot and sticky and takes a fully clothed hosepipe shower in her garden.
Shot in May 2009 this was before CC acquired their video camera, but we have 92 enhanced shots of the action. An appropriate set to celebrate the current UK heatwave!

Are you aware that WSM now have 279 movies and 450 image sets available for the price of a Subscription?
Now that is some bargain for this superb library of material!
CLICK HERE TO VIEW COSTS FOR A SUBSCRIPTION TO THE WEBSITE

SEE ALSO THE WSM ONLINE STORE (no membership required)
Click on movie and page down for full description and sample images, for
50 VINTAGE FILM DOWNLOADS
PLUS 90 New 'WSM Movies & Images' with 1/3rd available on the Subscription site too.
PLUS 16 Movies with Images transferred from the Subscription Website and now also available as Downloads
and XXX section with 70 MOVIES with Images, only available as Downloads.
CLICK HERE TO GO TO THE WSM 'DOWNLOADS ONLINE STORE'


We also have a UMD STORE and transfer MOVIES and IMAGES regularly
CLICK HERE TO GO TO THE UMD STORE




SUBSCRIPTION WEBSITE
WETLOOK
I consider this one of Mrs. Custard Couple's (CC) best Wet image sets!
Image set W310 features Mrs. CC with 92 shots titled 'Soaked Business Suit'.
Shot in her garden on a summer day in May 2009 in a beautiful flowery setting, this set is all about Mrs. CC's desire to get soaked and have some Wet Sex Fun!
But let Mrs. CC tell us about this photoset:
"Ever wonder what your primly dressed female boss or female work colleagues get up to after a sweltering day in the office? Well, I thought I would show you!
As I dressed for another dreary day at the office in the midst of a heatwave, I felt that familiar tingle in my stomach as I hitched up my black skirt and pulled on my stockings.
This time I put a little extra effort into my hair and make-up as I knew this day would be somewhat different!
Little did my colleagues know what I was going to enjoy later that day.
My mind reeled in the anticipation to feel once again my saturated clothes clinging to my body. To get them soaked and drenched is such a turn on for me!
On my return from work, Mr. CC had read the signals and was prepared with camera and hosepipe at the ready!
Grasping a full glass of wine and without bothering to take off my jacket or work glasses, I grabbed the hosepipe desperate to start my lush soaking!
Within seconds the wine had already spilt over my satin blouse and the water was spilling over my skirt and stockings!
Desperate to saturate myself, my skirt was hitched up to fully enjoy a pantie soaking.
My tits pressed hard against the wet material of the confining bra, and Wow! How good did that feel! My clit reacted to the sudden wet cold shock!
It was all too much! I turned the hosepipe on Mr. CC and we both enjoyed the delights of each others soaking clothes!
Finally, I pushed Mr. CC to his knees as I slumped into a patio chair.
I forced his head between my legs…..his tongue exploring the wet material before entering my cunt……I came in seconds with a shuddering orgasm.
So this is what I get up to on those hot, summer days, when I return home dressed in my sexy business suit!! If you get a chance you should try it!"
We show you 5 sample shots from Mrs. CC's Soaked Business Suit set W310.
Sadly this is an image only set as no movie was shot.
But with the Enhanced images……it is well worth a look!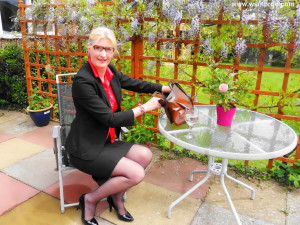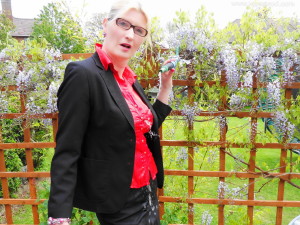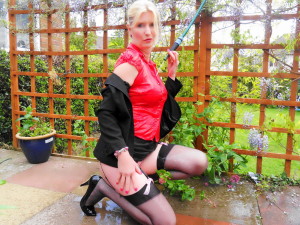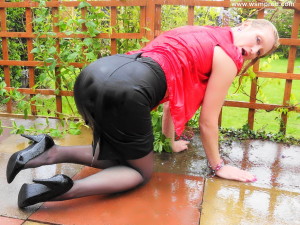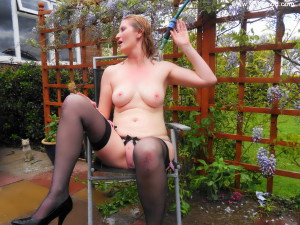 Of course image set W310 is available on the Subscription site.
To join the Subscription website with access to 279 movies and 450 image sets, see cost below:
CLICK HERE TO VIEW SUBSCRIPTION COSTS





We continue to take SUBSCRIPTION payments in £ Sterling, US dollars and Euros, for membership of the WSM Website.
The Subscription site does not include access to new movie/images Downloads in the Online Store, which we have added during the last two years,or any XXX movies.
Since April 2017, Movies and Image sets added to the WSM Online Store under 'WSM Movies & Images' are added also to the Subscription site, 2 years after being posted as a Download.
Look at the JOIN NOW page to see our great value for 30 day, 3 month and 6 monthly Subscriptions as for a Subscription you can access:
279 Movies averaging 30 minutes each, including 18 Messy Wrestling Movies and 72 Custard Couple Movies, (which include 25 joint productions with WSM),
15 vintage movies and 174 normal WSM movies (excluding 24 duplicated joint production movies with Custard Couple).
PLUS 46,912 Images in 450 sets (being 161 W + 207 S + 82 M).
But if you want to see all these Movies and Image sets, then you need to take a Subscription to become a Member.
Click here to see the amazing value Join costs!