An unusual images only set from Mrs. Custard Couple (CC). Clearing out her wardrobe she easily found 4 different outfits to get each wet in the swimming pool.
Image set W316 has 95 enhanced shots and can be found on the Subscription site.

Are you aware that WSM now have 278 movies and 449 image sets available for the price of a Subscription?
Now that is some bargain for this superb library of material!
CLICK HERE TO VIEW COSTS FOR A SUBSCRIPTION TO THE WEBSITE
SEE ALSO THE WSM ONLINE STORE (no membership required)
Click on movie and page down for full description and sample images, for
50 VINTAGE FILM DOWNLOADS
PLUS 90 New 'WSM Movies & Images' with 1/3rd available on the Subscription site too.
PLUS 16 Movies with Images transferred from the Subscription Website and now also available as Downloads
and XXX section with 70 MOVIES with Images, only available as Downloads.
CLICK HERE TO GO TO THE WSM 'DOWNLOADS ONLINE STORE'

We also have a UMD STORE and transfer MOVIES and IMAGES regularly
CLICK HERE TO GO TO THE UMD STORE



SUBSCRIPTION WEBSITE
WETLOOK
It is always a treat to see Mrs. Custard Couple (CC) getting wet.
This was her final images only set.After this, everything has accompanying movie film.
She does Wetlook so well, always with a great choice of clothes, but always totally Wet!
One summer's day she was going through her wardrobes, and realised the great opportunity for some wet playful fun, as they had a large pool in their garden.
But let us let Mrs. CC recount this wet tale:

'As the weather was just perfect for a dip, I showed Mr. CC four likely outfits.
He could not decide which I should wear, but I noticed the twinkle in his eye, and knew that really he wished me to get wet in all 4 outfits!
The tight white dress clung to my body like it was glued on!
It felt ever so sexy…..my tits so hard and sticking through the tight material.
I just had to cool down with an ice lolly.
But sucking suggestively on the lolly and exiting the pool to show maximum bum appeal….had Mr. CC already in a sweat!
Next, the black dress showed my pretty black and white panties through the lace material.
Adding some shaving cream heightened Mr. CC's interest as my tits leapt from my bra!
Mr. CC was now getting very flustered as I changed into my tight white jeans.
Sinking into the water and giving him a great wet bum display, he was soon beside me in the water groping my tits through my blouse and bra…..as I sensed I was letting myself go with lust!!
A final change into my extra tight leather jeans and sheer frilly blouse (without a bra) soon proved too much for us both!
We sank into the water together. The wet clothes were caressed and fondled before being removed, allowing us to fuck each other among the wet clothes with a great frenzy and shuddering orgasms!!
Mmm, we both decided it had been the right choice to try all the outfits on for the pool!!'

More raunchy fun from CC!!
Image set W316 has 95 pics so you can view all 4 outfits Mrs. CC chose for her Wet fun.
We have Enhanced all these images so you get great Full Screen pics.
To see the true image size go to the 'What's New' header at www.wsmprod.com to see the sample pics.
We show you 5 enhanced sample shots from Mrs. Custard Couple's image set W316.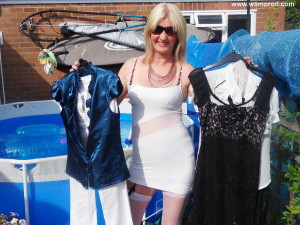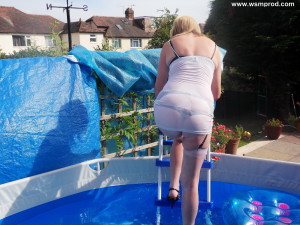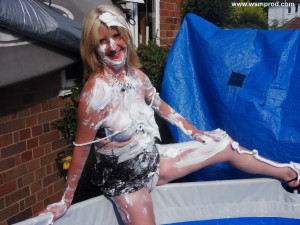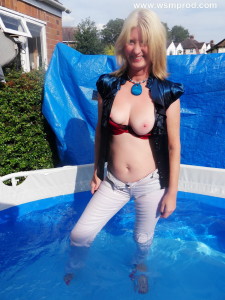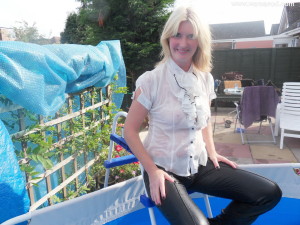 Of course image set W316 is available on the Subscription site.
To join the Subscription website with access to 278 movies and 449 image sets, see cost below:
CLICK HERE TO VIEW SUBSCRIPTION COSTS




We continue to take SUBSCRIPTION payments in Ł Sterling, US dollars and Euros, for membership of the WSM Website.
The Subscription site does not include access to new movie/images Downloads in the Online Store, which we have added during the last two years,or any XXX movies.
Since April 2017, Movies and Image sets added to the WSM Online Store under 'WSM Movies & Images' are added also to the Subscription site, 2 years after being posted as a Download.
Look at the JOIN NOW page to see our great value for 30 day, 3 month and 6 monthly Subscriptions as for a Subscription you can access:
278 Movies averaging 30 minutes each, including 18 Messy Wrestling Movies and 72 Custard Couple Movies, (which include 25 joint productions with WSM),
15 vintage movies and 173 normal WSM movies (excluding 24 duplicated joint production movies with Custard Couple).
PLUS 46,776 Images in 449 sets (being 161 W + 206 S + 82 M).
But if you want to see all these Movies and Image sets, then you need to take a Subscription to become a Member.
Click here to see the amazing value Join costs!