In reply to Message (73951)

mature brunette Dee in clothed to nude river play - WSM

By WSM Productions - webmaster@wsmproductions.co.uk

Sat 07/07/18 17:55:01 GMT
Website: https://wsmprod.com/updates
---
A brand new 20 minute wet HD movie WSM200 featuring mature brunette Dee at play in the river. Plus no fewer than 196 enhanced 35mm pics. A great value set.


WSM now have 276 movies and 447 image sets available for the price of a Subscription!
CLICK HERE TO VIEW COSTS FOR A SUBSCRIPTION TO THE WEBSITE
SEE ALSO THE WSM ONLINE STORE (no membership required)
Click on movie and page down for full description and sample images, for
50 VINTAGE FILM DOWNLOADS
PLUS 89 New 'WSM Movies & Images' with 1/3rd available on the Subscription site too.
PLUS 16 Movies with Images transferred from the Subscription Website and now also available as Downloads
and XXX section with 70 MOVIES with Images, only available as Downloads.
CLICK HERE TO GO TO THE WSM 'DOWNLOADS ONLINE STORE'

We also have a UMD STORE and transfer MOVIES and IMAGES regularly
CLICK HERE TO GO TO THE UMD STORE

NEW DOWNLOAD – WETLOOK MOVIE
Mature brunette Dee was 44 when we shot this movie 4 years ago.I guess she weighed just over 10 stone.Returning to the same river this week, although 4 years older, Dee had trimmed down to 8 stone 3 lbs.So, she is an exceptional person despite being just an ordinary lady, but does she come to life when she does WSM shoots!

'Dee in river in green floral dress'
HD Movie plus Image set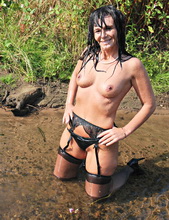 Movie WSM200
Run-time 20 mins 11 secs

2 HD Streams plus 2 HD Sample Clips – choose WMV or MP4 formats

Stream 1 runs 9 mins 53 secs
We open with Dee describing her outfit.
She wades into the river and splashes about.
Dee sits and lies in the shallows to become wetter.
'The wetter the better!' she says.
There is constant action from Dee.
Just on 6 mins she takes a first dive into the river to fully wet her outfit.
This is immediately followed by a 2nd dive – see CLIP 1.
There are 4 dives in this 1st Stream.
And we are right in the river with her!
No shots from the riverbank here!
Dee does enjoy the water and she splashes herself in delight.
If you like a wet clothed mature lady having wet fun, then here it is!

>>>>> SEE CLIP

Stream 2 runs 10 mins 18 secs
The 2nd Stream commences as Dee removes her dress.
Then it is back into the water to cavort and splash about.
Plenty of great wet shots here but no further dives in this Stream, but after one minute, Dee does take a head dunk– see CLIP 2.
After 5 mins she removes her knickers for almost a further 5 mins of play in just garter belt, stockings and heels.
There are some quite explicit shots as Dee is not shy.
We see some fine wet play, but there is a limit of what one can do in a 20 minute shoot.
We end with a soapy wash-down and shampoo with Dee stood in the river.
'Lovely and refreshing' she says…….and so it was.

>>>>> SEE CLIP


There are 196 image shots set W356to record Dee's wet river fun.
These are all 35mm shots and give a great viewing of Dee's wet play.
To see the true size always go to the 'What's New' header at www.wsmprod.com website.
Most Forums, because of file size restrictions, show inferior sized images.
We did experiment by adding some shots taken against the sun, but you would need to see the full set to decide if they are of value.
Due to the size of this image set, we show you 6 sample shots with 3 clothed and 3 topless.
Enjoy!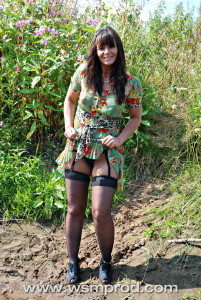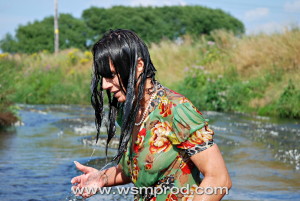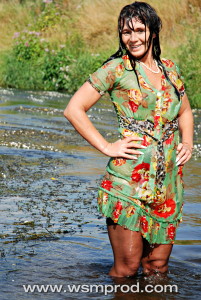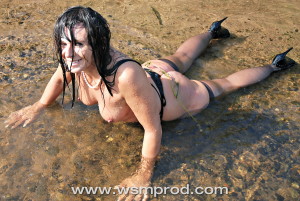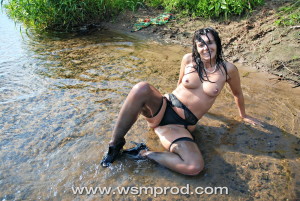 MOVIE WSM200 of 'Dee in river in green floral dress'
has 2 HD Streams running 20 mins 11 secs.

PRICE
£5-80 GBP
$8-70 USD
Euro 7-50

To Purchase this movie go to the Downloads – Online Store, then the 'WSM Movies and Images' section and find "Dee in river in green floral dress" as movie WSM200.




We continue to take SUBSCRIPTION payments in £ Sterling, US dollars and Euros, for membership of the WSM Website.
The Subscription site does not include access to new movie/images Downloads in the Online Store, which we have added during the last two years,or any XXX movies.
Since April 2017, Movies and Image sets added to the WSM Online Store under 'WSM Movies & Images' are added also to the Subscription site, 2 years after being posted as a Download.
Look at the JOIN NOW page to see our great value for 30 day, 3 month and 6 monthly Subscriptions as for a Subscription you can access:
276 Movies averaging 30 minutes each, including 18 Messy Wrestling Movies and 71 Custard Couple Movies, (which include 24 joint productions with WSM),
15 vintage movies and 172 normal WSM movies (excluding 24 duplicated joint production movies with Custard Couple).
PLUS 46,439 Images in 447 sets (being 160 W + 205 S + 82 M).
But if you want to see all these Movies and Image sets, then you need to take a Subscription to become a Member.
Click here to see the amazing value Join costs!