For our Wetlook fans, we revisit a classic Wet image set 'Wet & wild outside', image set W318 with Mrs. CC (Custard Couple) in a meadow getting wet then stripping – 89 enhanced shots.

WSM now have 276 movies and 447 image sets available for the price of a Subscription!
CLICK HERE TO VIEW COSTS FOR A SUBSCRIPTION TO THE WEBSITE
SEE ALSO THE WSM ONLINE STORE (no membership required)
Click on movie and page down for full description and sample images, for
50 VINTAGE FILM DOWNLOADS
PLUS 88 New 'WSM Movies & Images' with 1/3rd available on the Subscription site too.
PLUS 16 Movies with Images transferred from the Subscription Website and now also available as Downloads
and XXX section with 70 MOVIES with Images, only available as Downloads.
CLICK HERE TO GO TO THE WSM 'DOWNLOADS ONLINE STORE'

We also have a UMD STORE and transfer MOVIES and IMAGES regularly
CLICK HERE TO GO TO THE UMD STORE



SUBSCRIPTION WEBSITE
WETLOOK
We look at one of Mrs. CC's (Custard Couple) early image sets that has no movie.
This is wet image set W318 with 97 shots and all the action is outdoors.
But, how come Mrs. CC ended up soaked and eventually stripped to nude?
Mrs. CC takes up the tale:
"Let us go for a country walk I pleaded to Mr. CC on a warm summers day in 2009.
Mr. CC was easily persuaded as winking at him I paraded in my tight pink jeans and full knickers and a filmy white blouse.
After a pleasant enough stroll, I led Mr. CC to a quiet country lane and into a field.
I had come prepared with a backpack laden with water bottles.
'I need to cool down Mr. CC', I purred.
Mr. CC was bemused but knew exactly where this was going.
The water soaked my white blouse exposing my erect nipples.
It ran down over my tight jeans and into my knickers!
'Mmmm! This is what I really want!'
'Pour it over me!' I shrieked.
More and more water doused over my clothes saturating my outfit and underwear.
The sight of my wet, clinging clothes soon proved too much for Mr. CC, especially as he espied my taut sheer knickers.
Pulling my jeans down, he pumped his rock hard cock over my bum, exploding his hot sticky cum everywhere!
This triggered me off as I reached down to play with myself through my panties, soaking them more and more as my orgasm reached its height!
Walking back in my soaked outfit did cause some raised eyebrows from passers-by, as we began to plan our next wet/messy adventure".

Custard Couple always seem to be looking for an opportunity.
That is why they have so many wet and messy adventures.
We show you 5 sample shots from image set W318.
Seeing sample shots 4 and 5, it is no wonder that Mr. CC lost control!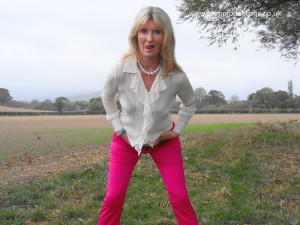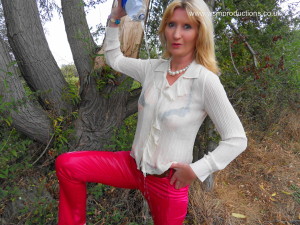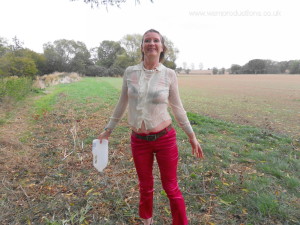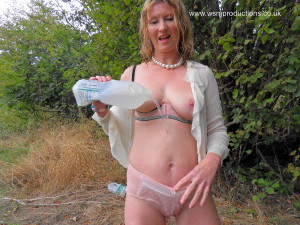 Image set W318 may be found on our Subscription site plus a further 446 image sets,not forgetting 276 movies.
Some bargain!
See Subscription cost below.
CLICK HERE TO VIEW SUBSCRIPTION COSTS




We continue to take SUBSCRIPTION payments in £ Sterling, US dollars and Euros, for membership of the WSM Website.
The Subscription site does not include access to new movie/images Downloads in the Online Store, which we have added during the last two years,or any XXX movies.
Since April 2017, Movies and Image sets added to the WSM Online Store under 'WSM Movies & Images' are added also to the Subscription site, 2 years after being posted as a Download.
Look at the JOIN NOW page to see our great value for 30 day, 3 month and 6 monthly Subscriptions as for a Subscription you can access:
276 Movies averaging 30 minutes each, including 18 Messy Wrestling Movies and 71 Custard Couple Movies, (which include 24 joint productions with WSM),
15 vintage movies and 172 normal WSM movies (excluding 24 duplicated joint production movies with Custard Couple).
PLUS 46,439 Images in 447 sets (being 160 W + 205 S + 82 M).
But if you want to see all these Movies and Image sets, then you need to take a Subscription to become a Member.
Click here to see the amazing value Join costs!