OUR NAME CHANGEDto www.wsmprod.com in February 2017.
Mature brunette Dee is in the river in a red top plus red mini skirt in 23 min HD movie WSM165, which is also now posted to the Subscription site after 2 years as a Download.This shoot has a massive 524 enhanced images in set W333.
For Slapstick,we review again XXX movie XXX015 which gives you exactly what it says, with Custard Couple (CC) in "Messiest couple chocolate sex play", plus we have added 161 full screen video grabs in image set S328XXX.

Also in this Update:
Is there any room for Image only sets in the WSM portfolio?
As far as I am concerned there is!
So a quick look at two sets:
Some unusual Slapstick as we see one of CC's earliest sets, as Mrs. CC becomes a mischievous and dirty schoolgirl in set S242 shot July 2010 with 94 shots.
For Wetlook, we go back to our earliest stirrings in commissioning a set with Jane titled 'Hose-pipe on patio'. Image set W014 now has 34 enhanced pics and was shot in 1978.
Except for XXX015 movie, everything else this week is available on the Subscription site.

Are you aware that WSM now have 271 movies and 441 image sets available for the price of a Subscription!
What a back catalog that is!But no need to pick just one or two as they are ALL available for the cost of a Subscription.
CLICK HERE TO VIEW COSTS FOR A SUBSCRIPTION TO THE WEBSITE
SEE ALSO THE WSM ONLINE STORE (no membership required)
Click on movie and page down for full description and sample images, for
50 VINTAGE FILM DOWNLOADS
PLUS 83 New 'WSM Movies & Images' with 1/3rd available on the Subscription site too.
PLUS 16 Movies with Images transferred from the Subscription Website and now also available as Downloads
and XXX section with 70 MOVIES with Images, only available as Downloads.
CLICK HERE TO GO TO THE WSM 'DOWNLOADS ONLINE STORE'

We also have a UMD STORE and transfer MOVIES and IMAGES regularly
CLICK HERE TO GO TO THE UMD STORE

SUBSCRIPTION WEBSITE/also a download
WET FUN
This is the 28th movie to be re-posted from the DOWNLOAD site to our SUBSCRIPTION site.
It has taken two years, but now you can now see this movie at no extra cost, if you are a member of our Subscription site.
This 23 minute HD movie WSM165 features mature lady Dee who frolics in the river in red top and mini skirt.
But there is even more in this fantastic release with no less than 524 (yes, you did read that right – five hundred and twenty four) images, all full screen, image set W333!
And these are all 35mm, not screen grabs!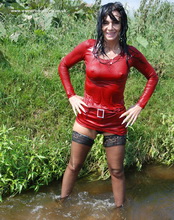 'Dee in river in red mini skirt and red top'
HD Movie plus Image Set
Movie WSM165
Run-time 23 mins 28 secs

2 HD Streams plus 2 HD Sample Clips

Mature lady Dee is dressed in a long sleeved red top, satin look red mini skirt, black thong, black hold-ups plus peep toe studded black heels (and do notice her very long finger nails!)
Dee cavorts on the river bank then makes a slow entry into the fast flowing river.
Before 3 mins she has crouched then knelt in the water.
After 4 mins she sits down in the river.
Her performance is full of movement and wet play.
Dee is a lady not afraid to get wet.
After 5 mins her perky tits and nipples show.
If she looks showy, she is!
Trained in the circus, Dee has an inbuilt desire to play to the audience through the camera.
She ends the 1st Stream by dipping her face and hair in the water – see CLIP 1.


>>>>> SEE CLIP

By the end of Stream 1, she is a fully wet girl.

Stream 2 commences with wet hair play and Dee is very happy to dunk her face into the water.
What a great sight this makes with a fully clothed mature lady in the river.
Dee then undertakes 6 dives into the river with the flow taking her past the camera.
She looks a red wet vision of delight!
And so the scene progresses:
At 3 mins 25 secs she loses a shoe.
At 4 mins 15 secs her skirt is off.
At 5 mins 00 secs she kicks her 2nd shoe off.
There is plenty of wet leg play.
She poses before removing her top at 6 mins 30 secs.
Now only clad in thong and stockings she continues her wet play – see CLIP 2.

>>>>> SEE CLIP

After 8 mins 35 secs she removes her knickers for 3 further minutes of nude play (except for her stockings).
No-one will be disappointed with this as Dee is certainly not shy and exposes all her charms in the shallow rushing waters.
We show you 2 Clips from movie WSM165.

It is not often in the UK that you can do a river shoot and come away satisfied.
As part of this package there are 524 image shots all at 35mm and all full screen.
There should be something here for most people, as this is as good as I can achieve.
But the star of the show is the delightful mature Dee.
With a 23 minute movie and over 500 images, this is remarkable value.
We show you 7 sample shots from image set W333.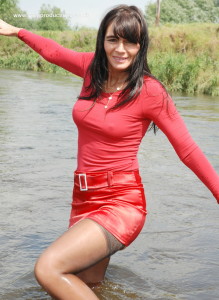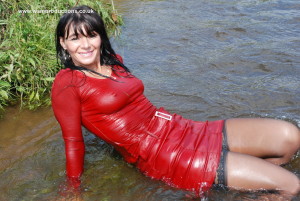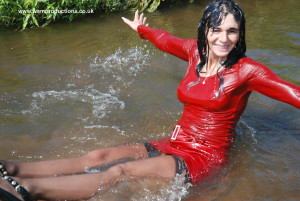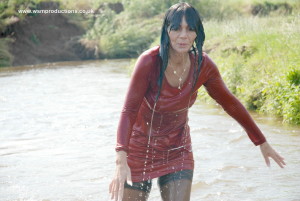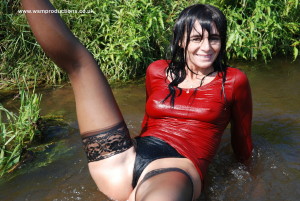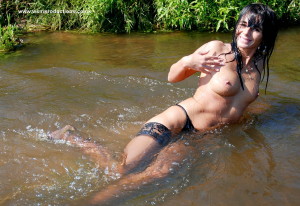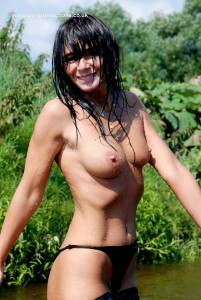 MOVIE WSM165 of 'Dee in river in red mini skirt and red top' has 2 HD Streams of 11 mins 55 secs plus 11 mins 33 secs, so running 23 mins 28 secs.

PRICE
£6-60 GBP
$9-90 USD
Euro 8-60

To Purchase movie WSM165 go to 'Downloads – Online Store' then to 'WSM Movies & Images' and find "Dee in river in red mini skirt and red top".

BUT WHY WOULD YOU PURCHASE?
IF YOU ARE A MEMBER OF THE SUBSCRIPTION SITE, then it is now there!
Where do you find Dee's movie WSM165 and image set W333 on the Subscription site?
For movie go to 'Subscription Movies', then 'Wet, Slapstick and Messy' and find WSM165 under the numerical listing.
For Images, go to 'Subscription Images', then 'Wet' and find W333 in the numerical listing.

But this is only one movie and one image set from our Subscription section which has 271 Movies and 441 Image sets all available just for the price of a subscription!
How much?
CLICK HERE TO VIEW SUBSCRIPTION COSTS