Wetlook World Forum

Current time: Wed 24/04/19 15:30:25 GMT



For Wetlook, we have given a makeover to Asian lady Jade's image set W246, which now has 70 shots. Jade wears a skimpy pink top and pink hotpants into the Jacuzzi plunge pool. Shot on 2008 the images are accompanied by 14 mins of movie in WSM048.
Except for our new muddy movie, everything else this week is available on the Subscription site.


SUBSCRIPTION WEBSITE
WETLOOK
We have 3 scenes of Jade at play in a classy Jacuzzi and Plunge Pool.
There are 3 image sets plus a movie running 48 minutes showing the 3 outfits.
This week we look again at her first scene.
In set W246, JADE is dressed in pink hotpants and skimpy top, not forgetting her vivid knee high boots.There were 58 pics in image set W246, but we have given this set a makeover and now have 70 enhanced shots.
Our Asian lady Jade enjoyed her dip in the Jacuzzi even if a long lie in the heated pool brings out a heat rash on her body!
We attempted to get in close and shoot some tight close up shots as it is all too easy to have your pics play second fiddle to the grandeur of the surroundings.
We show you 4 sample shots from set W246 of Jade.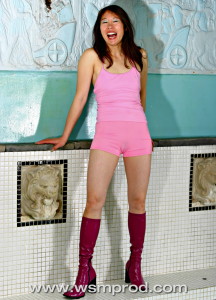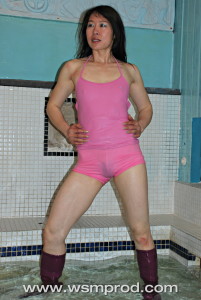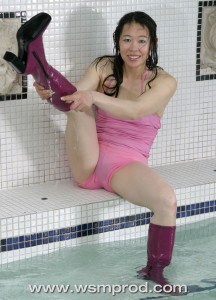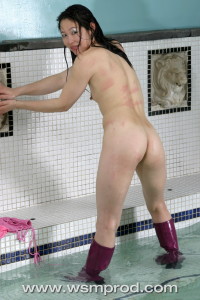 But there is an excellent video to support this set shot in 2008.
Stream 1 of movie WSM048 runs 14 mins 17 secs.
So a really good record of Jade's shoot at the classy Jacuzzis.
But it could so easily not have happened.
The girl supposed to shoot with Dee failed to appear, but fortunately Jade was available at short notice.
We show you a Clip of her shoot.
>>>>> SEE CLIP
 


To join the Subscription website with access to 270 movies and 440 image sets, see cost below:
CLICK HERE TO VIEW SUBSCRIPTION COSTS
We continue to take SUBSCRIPTION payments in £ Sterling, US dollars and Euros, for membership of the WSM Website.
The Subscription site does not include access to new movie/images Downloads in the Online Store, which we have added during the last two yearsor any XXX movies.
Since April 2017, Movies and Image sets added to the WSM Online Store under 'WSM Movies & Images' are added also to the Subscription site, 2 years after being posted as a Download.
Look at the JOIN NOW page to see our great value for 30 day, 3 month and 6 monthly Subscriptions as for a Subscription you can access:
270 Movies averaging 30 minutes each, including 18 Messy Wrestling Movies and 68 Custard Couple Movies, (which include 24 joint productions with WSM),
15 vintage movies and 169 normal WSM movies (excluding 24 duplicated joint production movies with Custard Couple).
PLUS 45,117 Images in 440 sets (being 159 W + 200 S + 81 M).
But if you want to see all these Movies and Image sets, then you need to take a Subscription to become a Member.
Click here to see the new better value Join costs!


Report Abuse or Problem to Nigel at Minxmovies
If you enjoy this forum, then please make a small donation to help with running costs:
(you can change amount)
---
---
---
[ This page took 0.008 seconds to generate ]