We look again at 20 minute movie CC16 with Mrs. CC in a soaked white satin dress
outdoors, plus 76 images in set W304.
Are you aware that WSM now have 264 movies and 435 image sets available for
the price of a Subscription.
Now that is some bargain for this superb library of material!




SUBSCRIPTION WEBSITE
WETLOOK
This week we look at another Image Wetlook set of Mrs. CC W304, not only with Enhanced (full screen) images, plus a 20 minute movie CC16 of the shoot.
Take a simple idea.
For Mrs. Custard Couple (CC) this is 'I want to get wet!'
Think about your best and most suitable clothes to be soaked in.
So Mrs. CC came up with her white satin dress with sexy, brief black edged bra and pants undies set (that cling when wet), a full black garter belt, nylon stockings…. and to finish off, red heels!
Next is where do you get wet?
Mrs. CC has tackled sea shots and river shots, but for an impromptu wetting, home is the best place! And as it was summer……it just has to be outdoors!
Hook up the garden hose, pull out the sun-lounger…..the sun is shining and the birds chirping, so off we go!
So Mrs. CC gets totally wet and during this 20 minute HD movie CC16 she slowly strips down to end in her knickers.
Being Mrs. CC then wet really does mean WET!
So Mrs. CC is sprayed all over by that hose-pipe with good sound effects.
Nothing escapes as she includes face and hair.
Mr. CC acts as cameraman and does not get involved in the action.
Take a look at the 2 Clips which show Mrs. CC's outfit and how wet she got!

>>>>> SEE CLIP
>>>>> SEE CLIP

We also include 76 shots of Mrs. CC under the hose-pipe in her garden, which we recently Enhanced to Full Screen.
These are not just good, they're great!

Image set W304 gives a complete record of Mrs. CC's soaking.
We show you 5 sample Full Screen shots of Mrs. CC enjoying her wet fun.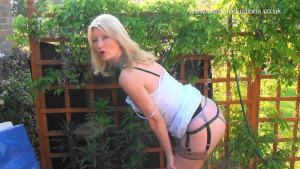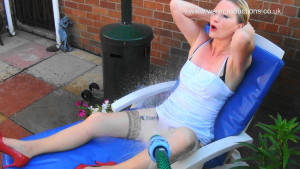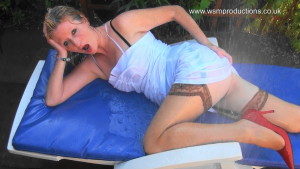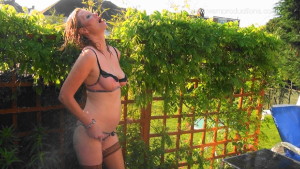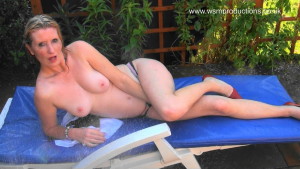 We continue to take SUBSCRIPTION payments in £ Sterling, US dollars and Euros, for membership of the WSM Website.
The Subscription site does not include access to new movie/images Downloads in the Online Store, which we have added during the last two years or any XXX movies.
Since 14th April 2017, Movies and Image sets added to the WSM Online Store under 'WSM Movies & Images' are added also to the Subscription site, 2 years after being added to the Downloads.
Look at the JOIN NOW page to see our great value for 30 day, 3 month and 6 monthly Subscriptions as for a Subscription you can access:
264 Movies averaging 30 minutes each, including 18 Messy Wrestling Movies and 66 Custard Couple Movies, (which include 23 joint productions with WSM),
15 vintage movies and 165 normal WSM movies (excluding 23 duplicated joint production movies with Custard Couple).
PLUS 43,989 Images in 435 sets (being 157 W + 199 S + 79 M).
But if you want to see all these Movies and Image sets, then you need to take a Subscription to become a Member.
Click here to see the new better value Join costs!