Wetlook World Forum

Current time: Fri 15/02/19 22:48:25 GMT



Some further nostalgic Wetlook as we see a very brief image sets of Debbie Jane W013 and Pet W022, both shot in 1981with just 19 shots in each.
Due to the date there is no video.
In the Messy Forums we take another look at one of our shortest movies as Professor Treacle shows his Hairdressing skills in providing services not often seen in a hairdressing salon!


SEE ALSO THE WSM ONLINE STORE (no membership required)
Click on movie and page down for full description and sample images, for
50 VINTAGE FILM DOWNLOADS
PLUS 80 New 'WSM Movies & Images'
PLUS 16 Movies with Images transferred from the Subscription Website and now also available as Downloads
and XXX section with 68 MOVIES with Images, only available as Downloads.
CLICK HERE TO GO TO THE WSM 'DOWNLOADS ONLINE STORE'

We also have a UMD STORE and transfer MOVIES and IMAGES regularly
CLICK HERE TO GO TO THE UMD STORE



 
SUBSCRIPTION WEBSITE
WETLOOK
We go to 1981 for some sheer nostalgia.
Let us look at two very early wet sets from 1981 year.
W013 has Debbie Jane cooling off in the garden using the lawn sprinkler.
W022 has Pet playing with the hose-pipe on her patio.
We show you one pic from each of these small sets.
These sets demonstrate the start-up of WSM.
With 19 shots of the lawn sprinkler on Debbie Jane and 19 shots of Pet with the hosepipe on her patio, it seems almost unbelievable now that someone would set up a shoot and take so few pictures!
But that was the way it was!
Otherwise there was virtually nothing on offer!
We have enhanced image set W022 of Pet to a full screen presentation.
Due to the shoot date there is no video of these shoots.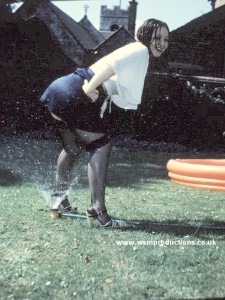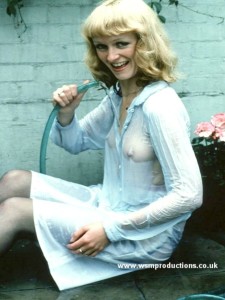 We continue to take SUBSCRIPTION payments in £ Sterling, US dollars and Euros, for membership of the WSM Website.
The Subscription site does not include access to new movie/images Downloads in the Online Store, which we have added during the last two years or any XXX movies.
Since 14th April 2017, Movies and Image sets added to the WSM Online Store under 'WSM Movies & Images' are added also to the Subscription site, 2 years after being added to the Downloads.
Look at the JOIN NOW page to see our great value for 30 day, 3 month and 6 monthly Subscriptions as for a Subscription you can access:
263 Movies averaging 30 minutes each, including 18 Messy Wrestling Movies and 66 Custard Couple Movies, (which include 23 joint productions with WSM),
15 vintage movies and 164 normal WSM movies (excluding 23 duplicated joint production movies with Custard Couple).
PLUS 43,898 Images in 434 sets (being 157 W + 198 S + 79 M).
But if you want to see all these Movies and Image sets, then you need to take a Subscription to become a Member.
Click here to see the new better value Join costs!




Report Abuse or Problem to Nigel at Minxmovies
If you enjoy this forum, then please make a small donation to help with running costs:
(you can change amount)
---
---
---
[ This page took 0.014 seconds to generate ]