Wetlook World Forum

Current time: Tue 19/02/19 11:38:23 GMT
Some nostalgic Wetlook as we see one of Mike Ellison's first shoots outside a studio. This is Eve in her bath and the 49 images of set W004 have been enhanced. There is no video with a shoot date of 1983.

In the Messy Forums we review again XXX movie XXX011. This is 3 movies in one comprising Ice Cream, Spunk and Chocolate sauce and Choc custard. But only the 1st Stream played, so this movie has been comprehensively overhauled, including the Images.



SUBSCRIPTION WEBSITE
WETLOOK
Eve was one of my influential girls from the early 80's.
I visited her flat in April 1983 for my first solo shoot away from the studio.
Arriving at 8.35am I shot this wet set and a chocolate topping syrup set (which sadly has yet to be posted to WSM). I left at 12.25pm.
As you can see great notes and full details still held!
We used Eve's bath – no de-luxe Jacuzzi here!
Her man slept all morning through the shoot!
So here is Eve's wet in the bath set, W004 with 49 shots of blonde EVE.
If you like curly haired cuties (you know where), then EVE will certainly please you.
There is a curious innocence about this set.
We all know why for it was a different era!
And when did that magical custard shoot in her bath take place? (see set S003 with 134 images that started to change the world!)
Not until the end of January 1984.
The small already logoed shots of Eve Wet in the Bath have been enhanced larger.
A matter of opinion whether ruined or enhanced!
But my set, so my choice!
See 4 sample shots of Eve from set W004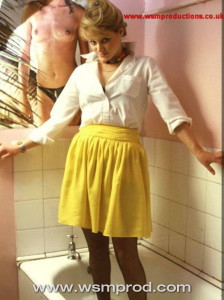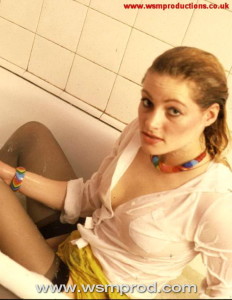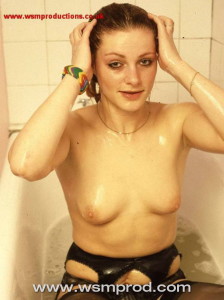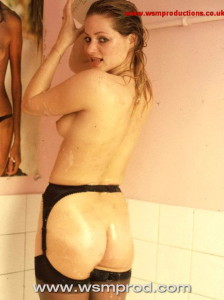 We continue to take SUBSCRIPTION payments in £ Sterling, US dollars and Euros, for membership of the WSM Website.
The Subscription site does not include access to new movie/images Downloads in the Online Store, which we have added during the last two years or any XXX movies.
Since 14th April 2017, Movies and Image sets added to the WSM Online Store under 'WSM Movies & Images' are added also to the Subscription site, 2 years after being added to the Downloads.
Look at the JOIN NOW page to see our great value for 30 day, 3 month and 6 monthly Subscriptions as for a Subscription you can access:
262 Movies averaging 30 minutes each, including 18 Messy Wrestling Movies and 65 Custard Couple Movies, (which include 22 joint productions with WSM),
15 vintage movies and 164 normal WSM movies (excluding 21 duplicated joint production movies with Custard Couple).
PLUS 43,470 Images in 433 sets (being 157 W + 198 S + 78 M).
But if you want to see all these Movies and Image sets, then you need to take a Subscription to become a Member.
Click here to see the new better value Join costs!

Report Abuse or Problem to Nigel at Minxmovies
If you enjoy this forum, then please make a small donation to help with running costs:
(you can change amount)
---
---
---
[ This page took 0.010 seconds to generate ]