What better than a trip to the seaside to raise our spirits as we see Dee playing in the surf at Tenby in her nightie and negligee, 16 minute movie WSM158 plus 289 enhanced images in set W326.
In the Messy Forums we look again at a two enhanced messy sets of Mrs. Custard Couple (CC) as we see her slip and slide in cooking oil set S241, plus some messy bathroom fun in set S338.

WSM CALENDAR
Well no, we have not produced a Calendar for 2018.
But we know someone who has!
It is our good friends Custard Couple.
We give you one final chance to purchase.
Custard Couple have prepared a 2018 Calendar of themselves (there are 3 couple pics).
This is A4 size, with pics sized at 9 inches x 5 inches on high quality paper, and is a collector's item.
It features 13 shots (including one cover pic) of mostly unreleased shoots.
Price is £10including postage in UK/Europe – there are 5 x Wet, 5 x Slapstick and 3 x Mud pics.
It is not for sale on WSM.
But if you wish to obtain a copy or enquire for any custom work, then contact Custard Couple at tjgbwilson@aol.com
So it was not only a Merry Christmas from Custard Couple, but a Wet, Sploshy and Muddy New Year with their Calendar!





SUBSCRIPTION WEBSITE
WETLOOK
What better tonic is there than to go to the summer to see Dee in a wet clothed set at the beach.
Image set W326 has Dee clad in nightie and negligee taking a bathe in the sea near Tenby on a balmy summer's day.
With 289 shots, surely you can find a favourite pic here?
Dee enjoys getting fully wet and is not shy in stripping off to produce some raunchy, revealing pics.
We show you 5 sample pics from her image set W326 so you can anticipate the summer again!
But what have we done?
Why revise every pic to Full Screen, yes, all 289.
Well worth a look!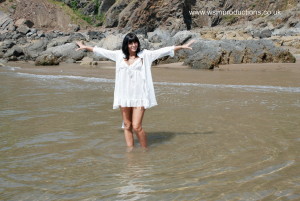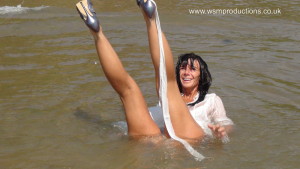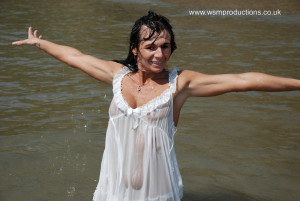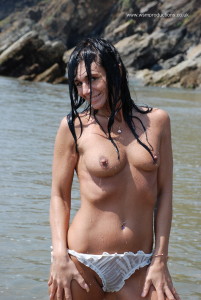 If this all sounds a rather idyllic shoot, sadly reality often intervenes.
Things do not always work out as you expect at a shoot!
Having walked a mile, climbed down a 300 foot headland, scrambled over many rocks on the beach area, I thought I had shot a good 30 minutes of sea-side wetlook.
But no! My editor was not impressed as I had no tripod!
So sadly we end up with a 16 minute HDmovie WSM158 of Dee.
Dee had yearned to do a shoot in Tenby for many years.
We start as she stands on a rock describing her Baby Doll outfit with nightie, plus matching knickers and negligee, not forgetting her silver heels (that she wears throughout!).
It was a very calm day, so the surf does not crash but rolls.
Dee is soon kneeling in the surf before lying in it and reacting to the waves.
She gets fully wet and puts her face and head under the water.
There are plenty of wet hair shots and classic wet clothed fun in the surf.
The tide is slowly receding.
At the end of Stream 1 Dee removes her negligee.
The final 3 mins 30 secs are topless with some pleasing wet shots.
We close as Dee removes her knickers with some very revealing shots.
A great day, a calm sea, a very willing model and hopefully enough footage for an interesting wet clothed shoot.
We show you 2 Clips from movie WSM158 of Dee in the sea near Tenby.
>>>>> SEE CLIP
>>>>> SEE CLIP


But this is only one movie and one image set from our Subscription section which has 260 Movies and 432 Image sets all available just for the price of a subscription!
How much?
CLICK HERE TO VIEW SUBSCRIPTION COSTS




We continue to take SUBSCRIPTION payments in £ Sterling, US dollars and Euros, for membership of the WSM Website.
The Subscription site does not include access to new movie/images Downloads in the Online Store, which we have added during the last two years or any XXX movies.
Since 14th April 2017, Movies and Image sets added to the WSM Online Store under 'WSM Movies & Images' are added also to the Subscription site, 2 years after being added to the Downloads.
Look at the JOIN NOW page to see our great value for 30 day, 3 month and 6 monthly Subscriptions as for a Subscription you can access:
260 Movies averaging 30 minutes each, including 18 Messy Wrestling Movies and 64 Custard Couple Movies, (which include 22 joint productions with WSM),
15 vintage movies and 163 normal WSM movies (excluding 21 duplicated joint production movies with Custard Couple).
PLUS 43,254 Images in 432 sets (being 157 W + 197 S + 78 M).
But if you want to see all these Movies and Image sets, then you need to take a Subscription to become a Member.
Click here to see the new better value Join costs!