OUR NAME CHANGED TO WWW.WSMPROD.COM FROMFEBRUARY 2017
This week a NEW Download HD movie as Custard Couple (CC) enjoy 'Couple Paint Fun'in movie WSM204/CC78 which runs 24 minutes plus image set S382 with 82 enhanced full screen shots.Being let loose with a big quantity of various coloured paints, CC get quite carried away, inevitably leading to XXX.
There follows a further 21 mins of XXX fun in movie XXX070, not forgetting anextra 36 XXX enhanced images as S382XXX.
For our Wetlook fans, a chance to go outdoors at this cold time of year as we re-visit the most unusual 32 minute movie WSM090 shot in a Moorland setting which now has 242 enhanced full screen images.
If you wish to see our Images and Movie Clips at their best, then go to 'What's New' section at www.wsmprod.com and check this week's update.

Also in this Update:
We look again at a two enhanced messy sets of Mrs. Custard Couple (CC) as we see her slip and slide in cooking oil set S241, plus some messy bathroom fun in set S338.
Then what better than a trip to the seaside to raise our spirits as we see Dee playing in the surf at Tenby in her nightie and negligee, 16 minute movie WSM158 plus 289 enhanced images in set W326.

Check our updated Online Store to see what other movies and images are available as Downloads.
CLICK HERE TO GO TO THE 'DOWNLOADS – ONLINE STORE'

Not forgetting our SUBSCRIPTION site with 260 Movies and 432 Image sets.Memberships extending for up to 6 months are available for the Website.
CLICK HERE TO VIEW SUBSCRIPTION COSTS

We also have a UMD STORE and transfer MOVIES and IMAGES regularly
CLICK HERE TO GO TO THE UMD STORE

WSM CALENDAR
Well no, we have not produced a Calendar for 2018.
But we know someone who has!
It is our good friends Custard Couple.
We give you one final chance to purchase.
Custard Couple have prepared a 2018 Calendar of themselves (there are 3 couple pics).
This is A4 size, with pics sized at 9 inches x 5 inches on high quality paper, and is a collector's item.
It features 13 shots (including one cover pic) of mostly unreleased shoots.
Price is £10including postage in UK/Europe – there are 5 x Wet, 5 x Slapstick and 3 x Mud pics.
It is not for sale on WSM.
But if you wish to obtain a copy or enquire for any custom work, then contact Custard Couple at tjgbwilson@aol.com
So it was not only a Merry Christmas from Custard Couple, but a Wet, Sploshy and Muddy New Year with their Calendar!




SUBSCRIPTION WEBSITE
WETLOOK
The essence of a good website is variety.
Outdoor wet shoots are challenging enough in the UK with the weather and people!
So to take on a shoot high in the hills on a moor (open uncultivated upland), borders on the extreme (or is that the insane)!
But one model not to be fazed is Chinese lady Jade.
She treats it as any other Wetlook set and just does it!
We ended up with 242 pics, but WSM does not put a motordrive on the camera.
Every shot is different and the poor shots are dumped!
So it takes a couple of days to prepare an image set (believe it or not).
So not only effort from the model, but effort from the photographer!
These shots are somewhat different as we strive to give the outlook of the moors and the expansiveness of the lake.
But seeing is believing, so here are 5 sample shots from image set W259.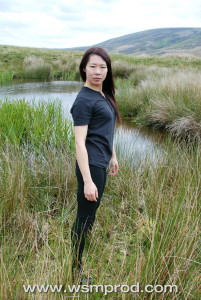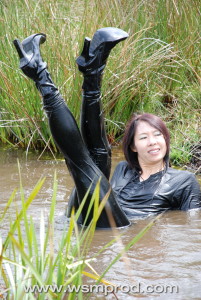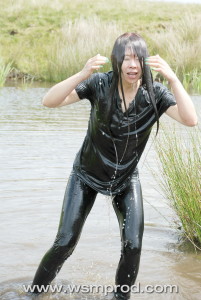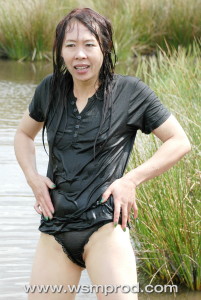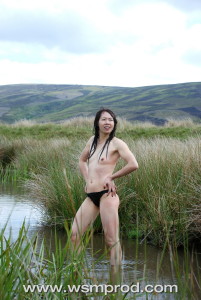 This is WETLOOK with a difference.
The location of Movie WSM090 is a Moorland Lake high up in the hills, with Chinese lady Jade.
Outdoor filming is always difficult and challenging, but this is something else!
Movie WSM090 runs over 31 minutes.
We have JADE dressed in a short sleeved black top, black leggings, black knickers and black ankle boots in a Lake high up in the hills.
It was not the best of weather being cool with no direct sun, but Jade is a true WSM girl and really loves getting wet or messy.
This is entertaining as Jade describes it as 'An adventure pond for her to play about!'
And play about she does!
We have live sound with at times an eerie quietness with only the occasional bird chirping.
This is a very natural setting seldom seen in wet sets!
Jade is a great wet woman and there are some super wet clothed shots.
Jade becomes ever more adventurous with face and head dunkings.
Eventually she strips to nude to round off what is a memorable and unusual Movie.
Here are 3 Clips from movie WSM090.

>>>>> SEE CLIP
>>>>> SEE CLIP
>>>>> SEE CLIP


But this is only one movie and one image set from our Subscription section which has 260 Movies and 432 Image sets all available just for the price of a subscription!
How much?
CLICK HERE TO VIEW SUBSCRIPTION COSTS



We continue to take SUBSCRIPTION payments in £ Sterling, US dollars and Euros, for membership of the WSM Website.
The Subscription site does not include access to new movie/images Downloads in the Online Store, which we have added during the last two years or any XXX movies.
Since 14th April 2017, Movies and Image sets added to the WSM Online Store under 'WSM Movies & Images' are added also to the Subscription site, 2 years after being added to the Downloads.
Look at the JOIN NOW page to see our great value for 30 day, 3 month and 6 monthly Subscriptions as for a Subscription you can access:
260 Movies averaging 30 minutes each, including 18 Messy Wrestling Movies and 64 Custard Couple Movies, (which include 22 joint productions with WSM),
15 vintage movies and 163 normal WSM movies (excluding 21 duplicated joint production movies with Custard Couple).
PLUS 43,254 Images in 432 sets (being 157 W + 197 S + 78 M).
But if you want to see all these Movies and Image sets, then you need to take a Subscription to become a Member.
Click here to see the new better value Join costs!