OUR NAME CHANGED TO WWW.WSMPROD.COM FROM 24TH FEBRUARY
We combined normal movie WSM111 and the XXX material to become movie XXX008 as Professor Treacle in 'The Hairdresser' gives a hugely entertaining performance with the delightful Tiffany in this 25 minute gem of a movie.
Mrs. Custard Couple braves the cool sea clad in her wedding dress in movie CC46, now reposted after 2 years as a Download to the Subscription section, plus 115 Enhanced (full screen) images in set W332.
Are you aware that WSM now have 256 movies and 428 image sets available for the price of a Subscription?
Now that is some bargain for this superb library of material!
Monthly Subscription rates have recently changed to become lower.
CLICK HERE TO VIEW SUBSCRIPTION COSTS
Also in this Update:
We review again blonde Chloe Westland both under the shower in a red mini dress then playing with rice pudding in her black dress all part of 60 minute movie WSM140 plus image sets W303 and S312.
This movie plus improved and now enhanced images are all available on the Subscription section.

SEE ALSO THE WSM ONLINE STORE (no membership required)
Click on movie and page down for full description and sample images, for
50 VINTAGE FILM DOWNLOADS
PLUS 79 New 'WSM Movies & Images'
PLUS 16 Movies with Images transferred from the Subscription Website and also available as Downloads
and XXX section with 64 MOVIES with Images, only available as Downloads.
CLICK HERE TO GO TO THE 'DOWNLOADS - ONLINE STORE'

We also have a UMD STORE and transfer MOVIES and IMAGES regularly
CLICK HERE TO GO TO THE UMD STORE




SUBSCRIPTION WEBSITE/also a download
WETLOOK
This is the 16th movie to be re-posted from the DOWNLOAD section to our SUBSCRIPTION section.It has taken two years, but now you can now see this movie at no extra cost, if you are a member of our Subscription site.
A Wetlook 22 minute HD movie from Mrs. Custard Couple (CC) as she takes a sea bathe in her wedding dress and undies.
HD Movie plus Image set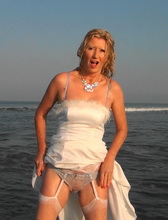 'Wet Wedding Dress'
Movie CC46
Run-time 22 mins 16 secs

2 HD Streams plus 2 HD Sample Clips

The Irish Sea is chilly even on the warmest of days.
So how do you shoot a Wetlook movie in full wedding dress regalia on a public beach?
Only by showing true grit and beating the onlookers with an early start.
This movie was completed by 8.10am.
But does Mrs. CC show any fear and cold………of course not!
She starts by talking us through her full length wedding dress.
We see her white stockings and heels (that remain on through this shoot).
There is nothing like the roar of the sea, crash of the waves and ripple of the surf.
Mrs. CC sits on a chair. We marvel at her stockings and sheer net knickers.
Leaning back, her hair touches the water, but she stretches too far – see CLIP 1.
>>>>> SEE CLIP

Then it is into the sea and the surf on a calm summers day.
We see her pale blue knickers and white suspender belt.
Mrs. CC kneels then lies in the gentle rolling breakers.
This is classic clothed wet play. She gets fully submerged by the sea and is carried to the shoreline by the waves.
Mrs. CC gets up and walks out further into the sea.
After some play she heads out of the water as Stream 1 ends.
Stream 1 runs 11 mins 18 secs

Stream 2 opens with Mrs. CC lying in the shallows enjoying the wet experience in her wedding dress.We are very up-close and feel we are there on the beach with her.
Now here is a woman who really enjoys getting wet, and it shows.
There are some terrific shots in the shallow surf.
What an invigorating tonic this is (for us all!)
There is something here for everyone who likes wet clothed women!
Mrs. CC ventures into the bigger waves only to be swept over.
She goes for an impromptu swim, being buffeted by the surf.
She returns to the shallows in a crescendo of noise.
After 7 mins 25 secs she removes her dress and then lies in the surf – see Clip 2.
>>>>> SEE CLIP

Mrs. CC shows plenty of movement and super stretching exercises.
She exits the sea (9 mins 57 secs) and strides onto the sandy beach as the wind ripples its approval.
After 10 mins 25 secs, she removes her bra for some topless shots and poses (which is always difficult on a public beach).
With Mr. CC on camera, this is yet another wet classic of couple wet fun.
Stream 2 runs 10 mins 58 secs
Mrs. CC's advice on what to do with an old Wedding Dress is 'Wet it!Mess it!Destroy it!'

MOVIE CC46 of Mrs. CC in her wet wedding dress has 2 HD Streams running 22 mins 16 secs.

There are 115 now Enhanced (full screen) images taken from the camera shoot.
These give a great history of Mrs. CC's Wedding Dress sea bathe.
Take a look at these 5 sample images to see if they appeal.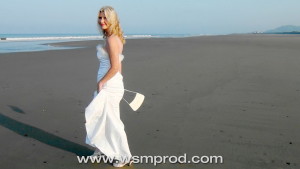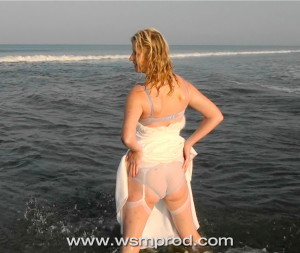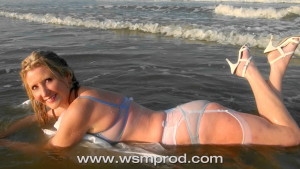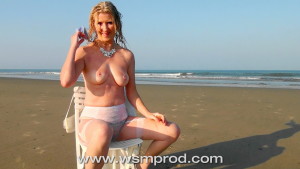 PRICE
£5-80 GBP
$8-70 USD
Euro 7-50

To Purchase movie CC46 of Mrs. CC in her Wet Wedding Dress in the sea', go to:
'Downloads – Online Store'
'WSM Movies & Images Section'
Find 'Wet Wedding Dress'

BUT WHY WOULD YOU PURCHASE?
IF YOU ARE A MEMBER OF THE SUBSCRIPTION SITE, then it is there now!
Where do you find Mrs. CC's movie CC46 and image set W332 on the Subscription site?
For Movie go to:
'Subscription Movies'
'Custard Couple'
Find CC46 under CC numerical listing (on page 2).
For Imagesgo to:
'Subscription Images'
'Wet'
Find W332 in numerical listing (on page 1)

But this is only one movie and one image set from our Subscription section which has 256 Movies and 428 Image sets all available just for the price of a subscription!
How much?
CLICK HERE TO VIEW SUBSCRIPTION COSTS





We continue to take SUBSCRIPTION payments in £ Sterling, US dollars and Euros, for membership of the WSM Website.
The Subscription site does not include access to new movie/images Downloads in the Online Store, which we have added during the last two years or any XXX movies.
Since 14th April 2017, Movies and Image sets added to the WSM Online Store under 'WSM Movies & Images' are added also to the Subscription site, 2 years after being added to the Downloads.
Look at the JOIN NOW page to see our great value for 30 day, 3 month and 6 monthly Subscriptions as for a Subscription you can access:
256 Movies averaging 30 minutes each, including 18 Messy Wrestling Movies and 62 Custard Couple Movies, (which include 21 joint productions with WSM),
15 vintage movies and 161 normal WSM movies (excluding 21 duplicated joint production movies with Custard Couple).
PLUS 42,632 Images in 428 sets (being 156 W + 195 S + 77 M).
But if you want to see all these Movies and Image sets, then you need to take a Subscription to become a Member.
Click here to see the new better value Join costs!