We review again an unusual movie with some glam shots of the sultry Mel in her bridal dress.
Then Mel takes a bath in the wedding dress before becoming a syrupy bride.
This 64 minute movie WSM414 is available on the Subscription site plus 84 enhanced glamour and wet images in set W195 and 50 enhanced images of the syrupy bride in set S120.


SEE ALSO THE WSM ONLINE STORE (no membership required)
Click on movie and page down for full description and sample images, for
50 VINTAGE FILM DOWNLOADS
PLUS 79 New 'WSM Movies & Images'
PLUS 16 Movies with Images transferred from the Subscription Website and now also available as Downloads
and XXX section with 64 MOVIES with Images, only available as Downloads.
CLICK HERE TO GO TO THE WSM ONLINE STORE

We also have a UMD STORE and transfer MOVIES and IMAGES regularly
CLICK HERE TO GO TO THE UMD STORE




SUBSCRIPTION WEBSITE
GLAMOUR, WETLOOK and MESSY
A NEW 64 minute Vintage movie WSM414 shot in 2004 with MEL dressed as the BRIDE in a single movie containing:
21 mins as the Glamour Bride on the 4 poster bed.
24 mins as the Wetlook Bride in the 4 poster Jacuzzi.
19 mins as the Messy Syrupy Bride in the 4 poster Jacuzzi.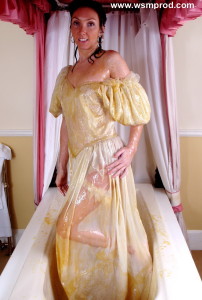 Movie WSM414
Run-time 64 mins 06 secs

6 Streams plus 6 Sample Clips

THE GLAMOUR BRIDE
There is no speech in this 21 minute glamour shoot as Mel, dressed in full bridal gown, makes the most of this special location.
Where have you seen Mel before?
She starred in our Vintage film 8 'The Ring' getting wet, sploshed and muddy. (see ONLINE STORE to purchase downloads).
In Stream 1 of movie WSM414, Mel commences somewhat bemused in what must be every girls' fantasy.
She begins showing her legs and white bridal stockings and a knicker glimpse – see CLIP 1.

>>>>> SEE CLIP

Then she is on the 4 poster bed looking very sultry.
We have knicker and bum shots before Mel gathers her dress to the waist for some knicker teasing before her knickers are removed.
We have bare pussy shots then a glimpse of her tantalizing large labia lips.
Stream 2of movie WSM414 commences with Mel lying on the bed for pussy play.
She undoes the dress back zip to lower it to her waist and show us her boobs and flawless body – see CLIP 2.

>>>>> SEE CLIP

Then she slides out of the dress.
She is now nude on the bed except for her stockings and heels.
There is a subtle mixture of light and shade.
Mel teases us with provocative mouth shots.
She lies back for pussy play with big attractive pussy lips!
This is steamy but classy.
She sits on the end of the bed with her legs over the edge for some close-up pussy shots.
Then she faces the bed with her back to the camera for appealing bum/leg shots.
Some may feel this Glam shoot is too long and slow moving.
But each part has beauty depending on what you appreciate – eyes, lips, boobs, legs, bum, pussy!
Any takers to produce that Ring for Mel?
The GLAM part has two Streams:
Stream 1 runs 11 mins 58 secs
Stream 2 runs 9 mins 20 secs
As to images of the Glam shoot, these appear under image set W195.
There are 30 enhanced shots that introduce set W195.

THE WET BRIDE
Stream 3of movie WSM414 has Mel at the 4 poster Jacuzzi in the wedding dress.
She steps into the bath, then sits on the side, before standing to show her underwear.
Mel lies down in the Jacuzzi bath in the dress, then rolls about to give us views of the wet, clinging dress.
She stands so we can see the wet bridal gown. The skirt becomes opaque.
Mel gathers the dress to show off her stockings and thighs.
Again, she lies in the bath eventually raising her gowned bum from the water then showing off the wet dress – see CLIP 3.

>>>>> SEE CLIP

Mel lies back in the bath before rolling over for a great bum shot as she plays with her stocking tops.
She has slow, languid bath play exploiting the filmy floating dress.
Mel lifts her wet legs to show them off plus her white wet heels.
Stream 4of movie WSM414 commences with Mel finishing her leg play before changing ends in the bath to immerse her head in the water directly before the camera.
She stands totally drenched to give us great wet hair and wet wedding gown shots.
Next Mel concentrates on wet hair shots plus some further wet leg shots as she is a very wet bride.
Standing, Mel undoes the dress and and slips it from her wet body showing her wet knickers and stockings – see CLIP 4.

>>>>> SEE CLIP

She removes her shoes before more splashy play.
Reclining in the bath, Mel removes her knickers before continuing with more leisurely wet play.
Releasing the bath plug causes her giggles.
The water drains away to display her body as she lies back in the bath.
We close with some wet pussy shots, then standing shots as Mel admires her magnificent wet body.
The WET part has two Streams:
Stream 3 runs 12 mins 34 secs
Stream 4 runs 10 mins 52 secs

Image set W195 has84 Images of MEL from Nov 2004, as Mel looks a stunning BRIDE, teasing us in her bridal dress before sliding into a 4 poster Jacuzzi.
As explained above, 30 enhanced shots are Glamour only.
So there are 54 enhanced image shots covering the Wetlook.
See Mel become a wet bride before stripping off to make you wish you were the groom!
We are sure that Wet Bride Mel will appeal as we show 5 sample images.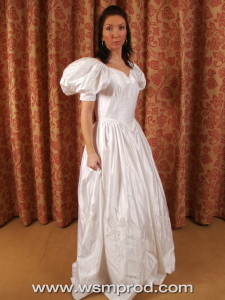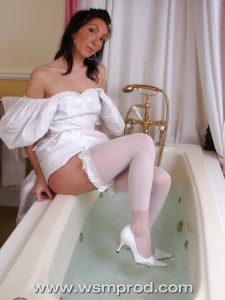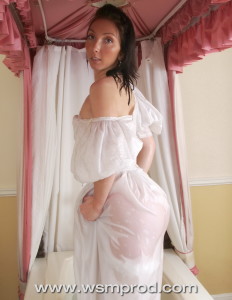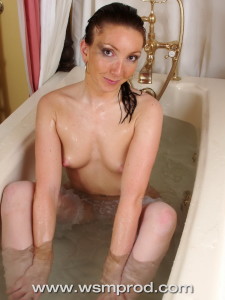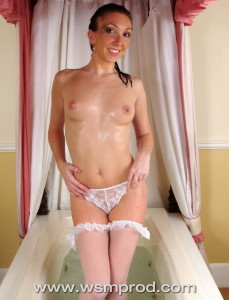 We continue to take SUBSCRIPTION payments in £ Sterling, US dollars and Euros, for membership of the WSM Website.
The Subscription site does not include access to new movie/images Downloads in the Online Store, which we have added during the last two years or any XXX movies.
Since 14th April 2017, Movies and Image sets added to the WSM Online Store under 'WSM Movies & Images' are added also to the Subscription site, 2 years after being added to the Downloads.
Look at the JOIN NOW page to see our great value for 30 day, 3 month and 6 monthly Subscriptions as for a Subscription you can access:
255 Movies averaging 30 minutes each, including 18 Messy Wrestling Movies and 61 Custard Couple Movies, (which include 21 joint productions with WSM),
15 vintage movies and 161 normal WSM movies (excluding 21 duplicated joint production movies with Custard Couple).
PLUS 42,519 Images in 427 sets (being 155 W + 195 S + 77 M).
But if you want to see all these Movies and Image sets, then you need to take a Subscription to become a Member.
Click here to see the new better value Join costs!