We review again Mrs. CC in vegetable oil slippy fun (shot outdoors at home), movie CC71 running 22 minutes plus image set S377 with 127 enhanced shots. This movie appeals both to Messy and Wet fans.

SEE ALSO THE WSM ONLINE STORE (no membership required)
Click on movie and page down for full description and sample images, for
50 VINTAGE FILM DOWNLOADS
PLUS 78 New 'WSM Movies & Images'
PLUS 16 Movies with Images transferred from the Subscription Website and now also available as Downloads
and XXX section with 64 MOVIES with Images, only available as Downloads.
CLICK HERE TO GO TO THE WSM ONLINE STORE

We also have a UMD STORE and transfer MOVIES and IMAGES regularly
CLICK HERE TO GO TO THE UMD STORE



DOWNLOAD
SLAPSTICK AND WETLOOK

This movie is posted both to Messy and Wetlook!
How can that be?
Because using vegetable oil can produce either Messy or Wetlook!

Movie plus Image set


'Mrs. CC in vegetable oil slippy fun'
Movie CC71
Run-time 21 mins 56 secs

2 HD Streams plus 2 HD Sample Clips – choose WMV or MP4 formats

We commence with a daring opening scene shot in Mrs. CC's front garden.
Then we see Mrs. CC sat in a garden chair in the privacy of her garden – see sample pic 1
She pours the oil over her top and skirt.
There are good slurpy sounds from the oily clothes as her knickers get well soaked.
She stands up and pours oil over her clothed bum.
Then a nice bum shot as her skirt is pulled up and oil dripped over her bum.
Mrs. CC sits on the table and more oil goes down her body on her black top – see CLIP 1.

>>>>> SEE CLIP

We have good slurpy sounds again.
She then lies across the table pouring oil over her skirt and stockings, then lies flat to writhe in the oil.
She sits upright on the table then changing position lies back on the table splaying her legs to give some great knicker shots.
More oil is poured over her top.
She lifts her right leg and pours oil over it – see sample pic 2
Phew! This is a hot shot! Then the 1st Stream ends as Mrs. CC drops her skirt down, caresses her oily clothed body, while stretching out.

Stream 2 commences As she lifts her top to caress her stomach and show her bra.
Still lying back on the table she pours oil on her bare stomach, then her bra, and caresses the oil into her body and we see the back of her hair has become oily.
Then, lying on her side she exposes her knickered bum.
Pulling her skirt down she kneels upright on the table , fondles her body then pours oil over her head.
She has a good hair and face oil drenching.
She continues to rub the oil into her body and clothes, squeezing the oil from her skirt.
She turns, still kneeling on the table. To show her knickered oily bum and oily hair – see sample pic 3
She squeezes her hair to release streams of oil, then we soon have great oily knickered bum shots.
So hot and shiny! Super sexy, or as one person put it, 'fryingly hot!'
Mrs. CC crouches forward for a continuing great oily bum shot as she caresses her knickers in a prolonged shot, before she sits on the table to caress her oily clothed body.
Wow! This is hot looking slippery sexiness of an oil saturated clothed woman!
We continue with more good squelchy sounds and she flicks oil from her hair plus some super oily hair caress shots.
Then her boobs are released from her bra – see CLIP 2.

>>>>> SEE CLIP

Mrs. CC lies full length on the table squirming to get her boobs oily, so we see some oily boob shots in a great close-up!
She continues her oily body play. See how fabulous she looks – see sample pic 4
Standing in front of the table, she removes her skirt, then squeezes it over her front.
Then she removes her top and squeezes the oil from it over her head and back.
Lying on the table, we get another lovely bum shot as she squirms and spins on the table.
Then Mrs. CC sits on the table and removes her knickers.
She lies across the table to give us a good view of her oily pussy.
Standing, she squeezes the oil from her knickers over her head/hair and turns around for a knickerless bum shot.
She sits on the table to remove her bra, fondling her boobs then her hair.
Finally, she gets off the table and sits in the garden chair just clad in suspenders, stockings and heels – see sample pic 5.
We continue to say it 'Custard Couple, the best mature WAM couple in the World!'

In addition to the 22 minute movie there are 127 enhanced shots in image set S377.
We have detailed above from where our 5 sample shots are taken.
Do you like them?
This is a superb movie and image set with the delightfully provocative Mrs. Custard Couple.
We show you the 5 sample shots.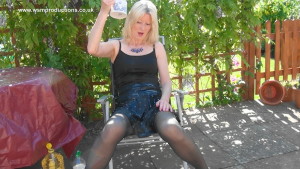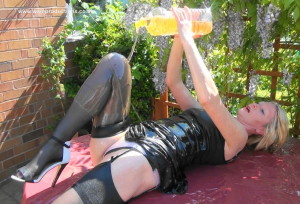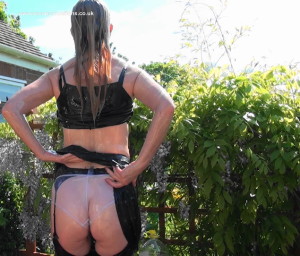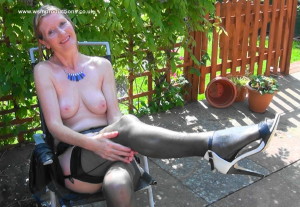 If you wish to see movie CC71 of "Mrs. CC at home in vegetable oil slippy fun", this is only available under the 'WSM Movies & Images Section' in the Online Store for purchase as a Download only.

MOVIE CC71 of "Mrs. CC in vegetable oil slippy fun" has 2 HD Streams of 10 mins 35 secs plus 11 mins 21 secs, so running 21 mins 56 secs.

PRICE
£6-20 GBP
$9-30 USD
Euro 8-10

To Purchase movie CC71 of 'Mrs. CC in vegetable oil slippy fun'go to 'WSM Movies & Images Section' in the Online Store.
 




We continue to take SUBSCRIPTION payments in £ Sterling, US dollars and Euros, for membership of the WSM Website.
The Subscription site does not include access to new movie/images Downloads in the Online Store, which we have added during the last two years or any XXX movies.
Since 14th April 2017, Movies and Image sets added to the WSM Online Store under 'WSM Movies & Images' are added also to the Subscription site, 2 years after being added to the Downloads.
Look at the JOIN NOW page to see our great value for 30 day, 3 month and 6 monthly Subscriptions as for a Subscription you can access:
255 Movies averaging 30 minutes each, including 18 Messy Wrestling Movies and 61 Custard Couple Movies, (which include 21 joint productions with WSM),
15 vintage movies and 161 normal WSM movies (excluding 21 duplicated joint production movies with Custard Couple).
PLUS 42,519 Images in 427 sets (being 155 W + 195 S + 77 M).
But if you want to see all these Movies and Image sets, then you need to take a Subscription to become a Member.
Click here to see the new better value Join costs!