Wetlook World Forum

Current time: Wed 26/09/18 16:12:35 GMT
For our Wetlook fans, come with us to the seaside to see Dee very wet in red top and red leggings in 24 min movie WSM163 plus 291 fabulous enhanced images in set W331.

To view movie WSM163 plus Image set W331 you need to join the Subscription site. But this also gives you another 254 movies plus 426 image sets!
CLICK HERE TO VIEW COSTS FOR A SUBSCRIPTION TO THE WEBSITE


SEE ALSO THE WSM ONLINE STORE (no membership required)
Click on movie and page down for full description and sample images, for
50 VINTAGE FILM DOWNLOADS
PLUS 77 New 'WSM Movies & Images'
PLUS 16 Movies with Images transferred from the Subscription Website and now also available as Downloads
and XXX section with 64 MOVIES with Images, only available as Downloads.
CLICK HERE TO GO TO THE WSM ONLINE STORE

We also have a UMD STORE and transfer MOVIES and IMAGES regularly
CLICK HERE TO GO TO THE UMD STORE




SUBSCRIPTION WEBSITE
WETLOOK
Image set W331 commences with a shot across the sea to the town of Tenby.
Brunette Dee dressed in long sleeved pale red top, bright red leggings, black thong and black strappy open toe heels, plays in the beach surf.
There is plenty of action as she immerses to her waist, before getting totally wet with her nipples standing out proudly under her wet top.
We have some great wet hair shots as Dee reclines in the sea.
She is a lady who loves to be wet and it shows.
There are 192 shots before she removes her top.
Next, she removes her leggings and we have 18 knicker and shoes shots.
Finally, there are 46 nude shots (except for shoes).
Some of these are quite explicit!
What a tonic this is!
A mature lady enjoying her clothed seaside bathe before stripping down for us.
And with 291 shots this is a true delight!
This image set is only available on the Subscription site.
We show you 5 sample shots of Dee's wet play.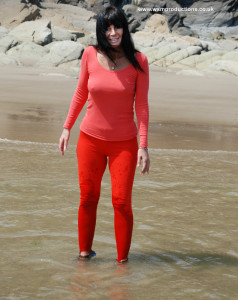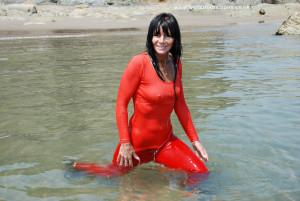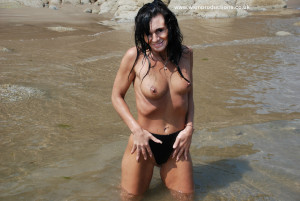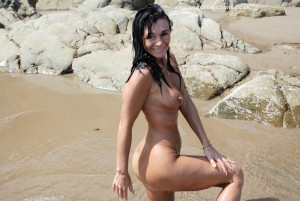 HD Movie WSM163 features mature lady DEE as she enjoys a wet clothed bathe in our favourite seaside town at Tenby in South Wales.
Dee starts on the sandy beach and the camera follows her down to the waters edge.
The sea is calm so the surf is quiet.
Dee splashes about among the small waves gradually getting wet.
She comments on her outfit 'Nice and tight and red'.
What is it you like about wet shots? Is it:
Wet shiny clothes pants and top
Wet thighs
Wet legs
Wet clinging boobs
Wet boobs
Wet hair
Wet face
Wet knickers
Wet heels
Wet nude
Well you can see them all here!
The water is calm and inviting.
After 6 mins 33 secs her boobs are wet.
After 10 mins her hair is wet.
We see some fabulous wet hair shots as Dee floats and swims in the water fully clothed – see Clip 1.
As Stream 2 commences Dee removes her top.
There are some great wet boobs shots as Dee reclines in the surf – see Clip2
With just 6 minutes remaining, Dee removes her pants and continues in just knickers and heels and there are fantastic black wet knicker shots.
The final 3 minutes have Dee nude, apart from her heels!
There are very revealing shots at the end as Dee gyrates in the shallows.
This is a true wet mature lady……just for your delight!
We show you two Clips from 24 minute movie WSM163.

>>>>> SEE CLIP
>>>>> SEE CLIP


MOVIE WSM163 of 'Dee wet clothed play at the beach' has 2 HD Streams running 24 mins 13 secs plus 291 image shots in set W331.
This movie is not available as a download and can only be seen on the Subscription site.


CLICK HERE TO TAKE A SUBSCRIPTION TO THE WEBSITE
On 13th October we changed the monthly cost for our SUBSCRIPTION site.
If you pay by Euros or US dollars you will receive overall savings.
Take a look at our new Subscription rates…click on above link.





We continue to take SUBSCRIPTION payments in £ Sterling, US dollars and Euros, for membership of the WSM Website.
The Subscription site does not include access to new movie/images Downloads in the Online Store, which we have added during the last two years or any XXX movies.
Since 14th April 2017, Movies and Image sets added to the WSM Online Store under 'WSM Movies & Images' are added also to the Subscription site, 2 years after being added to the Downloads.
Look at the JOIN NOW page to see our great value for 30 day, 3 month and 6 monthly Subscriptions as for a Subscription you can access:
255 Movies averaging 30 minutes each, including 18 Messy Wrestling Movies and 61 Custard Couple Movies, (which include 21 joint productions with WSM),
15 vintage movies and 161 normal WSM movies (excluding 21 duplicated joint production movies with Custard Couple).
PLUS 42,519 Images in 427 sets (being 155 W + 195 S + 77 M).
But if you want to see all these Movies and Image sets, then you need to take a Subscription to become a Member.
Click here to see the new better value Join costs!


Report Abuse or Problem to Nigel at Minxmovies
If you enjoy this forum, then please make a small donation to help with running costs:
(you can change amount)
---
---
---
[ This page took 0.012 seconds to generate ]