OUR NAME CHANGED TO WWW.WSMPROD.COM FROM 24TH FEBRUARY
Our apologies as our intended programme this week is deferred to next week due to continuing technical problems experienced by our film editor.
With our change of policy from 14th April 2017, movies posted as Downloads are now added to the Subscription site after 2 years (XXX movies excluded).
The 15th movie is now added to the Subscription site with Asian lady Jade being cream and custard flanned inmovie WSM184 which runs 21 minutes.Plus 90 images in set S365.
For Wetlook, a 16 min movie as Mrs. Custard Couple (CC) braves a wild stormy sea wearing white jeans, plus 134 enhanced images in set W329.
Are you aware that WSM now have 255 movies and 427 image sets available for the price of a Subscription.
Now that is some bargain for this superb library of material!
CLICK HERE TO VIEW COSTS FOR A SUBSCRIPTION TO THE WEBSITE
Also in this Update:
We review again outdoor XXX movie 'Mayonnaise Fun' with Jade and Steven, movie XXX003 released October 2012, plus 63 enhanced images in set S100XXX. Amazing messy couple fun!
For our Wetlook fans, come with us to the seaside to see Dee very wet in red top and red leggings in 24 min movie WSM163 plus 291 fabulous enhanced images in set W331.

SEE ALSO THE WSM ONLINE STORE (no membership required)
Click on movie and page down for full description and sample images, for
50 VINTAGE FILM DOWNLOADS
PLUS 77 New 'WSM Movies & Images'
PLUS 16 Movies with Images transferred from the Subscription Website and now also available as Downloads
and XXX section with 64 MOVIES with Images, only available as Downloads.
CLICK HERE TO GO TO THE WSM ONLINE STORE

We also have a UMD STORE and transfer MOVIES and IMAGES regularly
CLICK HERE TO GO TO THE UMD STORE



SUBSCRIPTION WEBSITE
WETLOOK
We review again16 minute HD movie CC45 as Mrs. Custard Couple (CC) has sea fun dressed in her white jeans and long sleeved black top.
But the seas are raging on a stormy day.
Not many Wetlook enthusiasts would do this!

To view movie CC45 plus Image set W329 you need to join the Subscription site.But this also gives you another 254 movies plus 426 image sets!
CLICK HERE TO TAKE A SUBSCRIPTION TO THE WEBSITE

Movie CC45
Run-time 16 mins 21 secs

2 HD Streams plus 2 HD Sample Clips – choose WMV or MP4 formats

A deserted beach!At least no-one to watch……but not many about on a wild day!
Crazy conditions!
But Mrs. CC is determined to get in those raging seas for some wet fun.
She strides into the sea and splashes herself in the shallows.
But that is just a foretaste of the soaking to come as the surf roars in.
Mrs. CC runs into the sea.
Soon she is kneeling in the white foamy sea.
Then she is on all fours as the sea washes over her – see CLIP 1.
>>>>> SEE CLIP

This is not just blustery. It is really stormy with the sea making a thundering noise.
She plays in the surf as the waves knock her forward.
Is she concerned? No, she just laughs.
She teases us by lifting her top to show her white bra.
Then she gets up and wades out further for some more surfing.

Stream 2 opens with Mrs. CC standing in the raging sea.
Then she lies in the surf as smaller waves roll over her.
She seems happier kneeling in the shallow sea while the waves more gently caress her.
Mrs. CC is now a very wet woman.
Standing again, she enjoys the buffeting of the wind and waves.
Then she wades to shore beckoning us to follow along as she goes to the waters edge before reclining in the water.
Kneeling, she removes her top.
Then she lies full length in the sea with her head to the waves, to get her hair fully wet – see CLIP 2.
>>>>> SEE CLIP

Mrs. CC rolls across the surf as if the waters were sparkling and barmy.
Next, she removes her very wet white jeans.
Then she has a play in the surf in white bra and black knickers.
She runs back into the sea for another play in the surf.
After removing her bra she walks out of the sea having a final topless play in the surf.
Then she strides onto the beach.
Phew! What an invigorating and energetic performance on such a cold and stormy day!

There are 134 image shots in set W329 of Mrs. CC's sea fun in white jeans.
Sadly, the main image set was lost.
Some remarkable pictures in the stormy conditions.
All these images have been Enhanced to Full Screen.
We show you 5 sample shots so you can see the storm tossed and very wet Mrs. CC.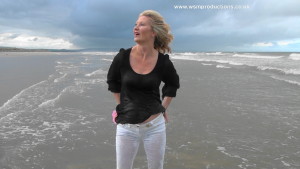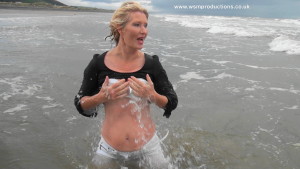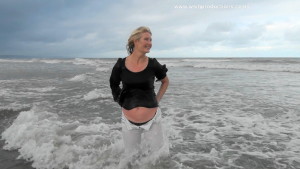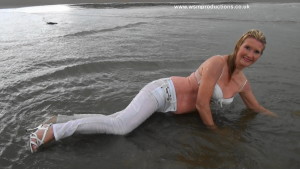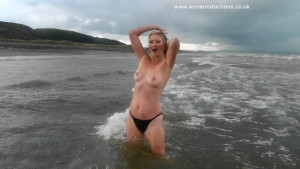 MOVIE CC45 of 'Mrs. CC's sea fun in white jeans' has 2 HD Streams running 16 mins 21 secs plus 134 image shots in set W329.
This movie is not available as a download and can only be seen on the Subscription site.


CLICK HERE TO TAKE A SUBSCRIPTION TO THE WEBSITE

On 13th October we changed the monthly cost for our SUBSCRIPTION site.
If you pay by Euros or US dollars you will receive overall savings.
Take a look at our new Subscription rates…click on above link.






We continue to take SUBSCRIPTION payments in £ Sterling, US dollars and Euros, for membership of the WSM Website.
The Subscription site does not include access to new movie/images Downloads in the Online Store, which we have added during the last two years or any XXX movies.
Since 14th April 2017, Movies and Image sets added to the WSM Online Store under 'WSM Movies & Images' are added also to the Subscription site, 2 years after being added to the Downloads.
Look at the JOIN NOW page to see our great value for 30 day, 3 month and 6 monthly Subscriptions as for a Subscription you can access:
255 Movies averaging 30 minutes each, including 18 Messy Wrestling Movies and 61 Custard Couple Movies, (which include 21 joint productions with WSM),
15 vintage movies and 161 normal WSM movies (excluding 21 duplicated joint production movies with Custard Couple).
PLUS 42,519 Images in 427 sets (being 155 W + 195 S + 77 M).
But if you want to see all these Movies and Image sets, then you need to take a Subscription to become a Member.
Click here to see the new better value Join costs!