OUR NAME CHANGED TO WWW.WSMPROD.COM FROM 24TH FEBRUARY
Our apologies as our intended programme this week and next have been postponed two weeks due to a technical problems due to our film editor.
With our change of policy from 14th April 2017, movies posted as Downloads are now added to the Subscription site after 2 years (XXX movies excluded). Two movies move this week!
The 13th movie is now added to the Subscription site with the mature Mrs. Custard Couple (CC) featured in 'Mud Slut 6', 27 min. movie CC49. Dressed all in white with black stockings and boots, Mrs. CC takes a mud bath to have a mud orgasm! Plus 116 images in set M210.
For Wetlook, the 11th movie is now added to the Subscription site with Mrs. Custard Couple (CC) taking two wet bike rides on beautiful summer days. In her garden she repairs a puncture and washes her bike and herself, 30 min movie CC24 'Wetbike', plus 147 images.
Are you aware that WSM now have252 movies and 424 image sets available for the price of a Subscription.
Now that is some bargain for this superb library of material!

Also in this Update:
In movie WSM101 small boobed Sian shows how to flaunt it in her sexy white outfit, as she gets fully messy with tomato soup, plus 138 images in set S278.
Then dressed in a micro leopard skin dress plus open crotch knickers, she gets wet under the shower in movie WSM109 plus 81 images in set W293.

We take Subscriptions to our Website – Memberships extending for up to 6 months are available. Subscription prices arechanging from 13th October – see 'Comment' section under number 2 for details
CLICK HERE TO TAKE A SUBSCRIPTION TO THE WEBSITE
SEE ALSO THE WSM ONLINE STORE (no membership required)
Click on movie and page down for full description and sample images.
FOR 50 VINTAGE FILM DOWNLOADS
PLUS 76 New 'WSM Movies & Images'
PLUS 16 Movies with Images transferred from the Subscription Website and now also available as Downloads
and XXX section with 63 MOVIES with Images, only available as Downloads.
Do you know what happens when you purchase one of the above Downloads?
You are given your own personal user code with Verotel.com
If you purchase further, these are added to your account.
You can access your movie and image downloads at any time via Verotel.com
Do you have Security concerns on your computer?
Here you have a ready answer as all your download purchases are held with Verotel.com
To enter the Verotel download site, access is through https://wsmprod.com/content_area.php (note, underscore after content)
This only applies for purchased Downloads.
GIVE IT A TRY.
Do note that there are separate passwords for Downloads and for the Subscription site.
CLICK HERE TO GO TO THE WSM ONLINE STORE

We also have a UMD STORE and transfer MOVIES and IMAGES regularly
CLICK HERE TO GO TO THE UMD STORE





SUBSCRIPTION WEBSITE/also a download
WETLOOK
This is the 11th movie to be re-posted from the DOWNLOAD site to our SUBSCRIPTION site.
It has taken two years, but now you can now see this movie at no extra cost, if you are a member of our Subscription site.
But beware! Subscription charges are changing from 13th October!
Buy now and save! See www.wsmprod.com under 'What's New'.
A 30 minute HD movie from Custard Couple (CC) CC24 'Wetbike'.
We have two wet bike rides with Mrs. CC on beautiful summer days.
Mrs. CC repairs a puncture and washes her bike and self in the garden!
Plus 147 images and this is a decided summer treat!

HD Movie plus Image set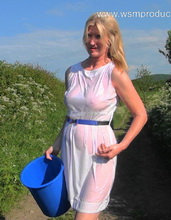 Mrs. CC in Wetbike
Movie CC24
Run-time 30 mins 13 secs

4 Streams plus 3 Sample Clips

Stream 1 - runs 9 mins 19 secs
We open with Mrs. CC riding her bike on the road clad in a white sleeveless mini dress.
She stops to pour water over her bum so we can see her lacy panties.
Off she rides, parking up her bike and climbing on a gate.
She rides off again before stopping by a gate into a field.
She has a large plastic water container and wets her front.
'This is what you call wet' she says.
Her boobs are very visible thru the wet dress and she shows her wet keds (shoes).
Off she rides again and rides down a farm track lane.
More water is required. She starts with a plastic container, then a large blue bucket, with some water going over her head.
'That's really cooling' she says, and Mrs. CC is very wet.
She lets us inspect her wet panties.
After a further brief ride, she returns still very wet.
She washes down her bike with a watering can before pouring the water over herself – see CLIP 1.
>>>>> SEE CLIP
She is now so wet, she wrings the water out of her dress and shows us some tight pantie shots.
She rides away again.
Suddenly, she has a puncture, so she sets off home with her bike.

Stream 2 – runs 7 mins 57 secs
Mrs. CC has got changed into a short white shirt style top and is in her garden
She has just mended the bike puncture and pumps up the tyre.
Using a sponge, she attempts to clean the bike.
Her short top exposes her tight panties.
But it is not long before Mrs. CC tires of soaking the bike and starts soaking herself with the sponge.
She pays special attention to her tight knickers as the soapy water oozes down her body – see CLIP 2.

>>>>> SEE CLIP

She kneels then writhes on a blue mattress clad in her white cotton top, tight pale blue knickers and lilac heels.
Kneeling on the mat she soaps her front then those wet tight panties.
She lies back to provide some provocative wet long leg shots.
Of course we all do like her wet panties as Mrs. CC finishes by pulling herself on her tummy over the wet mat.

Stream 3 – runs 9 mins 56 secs
Mrs. CC continues her soaking on the blue mat.
She kneels for a further rinse down.
She stands so we can admire her wet outfit.
More soapy water is dispensed over herself.
The sponge ends up inside her panties!
She undoes the top of her white cotton outfit to soap up her boobs.
Then her boobs are out for some wet play.
Her pantied bum gets another soaping.
The final soapy water goes over her head.
She sits on a bench and gets rinsed off with some flowing water.
Finally, she removes her white top – see CLIP 3.

>>>>> SEE CLIP

This sexy wet garden scene has run for 15 minutes.
Mrs. CC is off on another bike ride in a short white dress (with pockets).
You do see some shadows of Mr. CC taking the movie in the sunshine.
This reminds us that CC are an amateur couple who do enjoy their WSM and pleasingly allow us to follow their adventures.
Stopping at a junction, Mrs. CC again needs a cool-down with a container of water.
She wets the front of her dress.
A further container is poured over her dress.
She rides off feeling so much cooler.

Stream 4 – runs 3 mins 01 secs
We eventually tracked down a missing 3 minutes of this movie which we have added as Stream 4.
Mrs. CC soaks herself again so her dress 'Is really tight and really see through'.
She rides away but returns for a further dowsing from a large water container, completely soaking herself including her hair!
'Nice and cooling' she says.
She dismounts her bike to show off her wet clothes and give us another boob view.
Wow! Very unique material from a very sexy MILF!
Great summery shots with sheer enjoyment from the wet loving Mrs. CC!

MOVIE CC24 Wetbike has 4 Streams running 30 mins 13 secs.

In addition there are 147 image shotsin set W307 available with this movie.
We show you 5 sample shots of the action.
The fit looking Mrs. CC shows us to how to stay fit!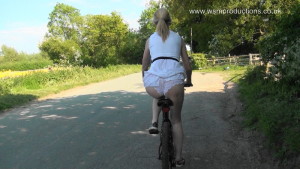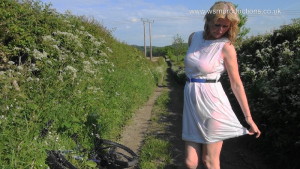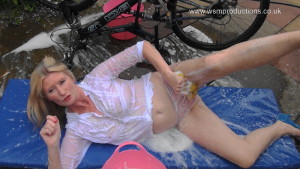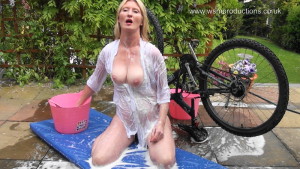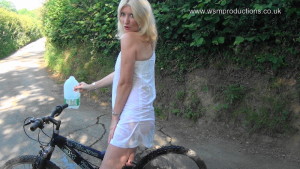 PRICE
£5-80 GBP
$8-70 USD
Euro 7.50

To Purchase movie CC24 'Wetbike' go to 'WSM Movies & Images Section' in the Online Store under 'Mrs. CC in Wetbike'.

BUT WHY WOULD YOU PURCHASE?
IF YOU ARE A MEMBER OF THE SUBSCRIPTION SITE, then it is now there!
Where do you find Mrs. CC's movie CC24 and image set W307 on the Subscription site?
For movie go to 'Movies', then 'Custard Couple' and find CC24 under CC numerical listing on page 3.
For Images, go to 'Images', then 'Wet' and find W307 in numerical listing.




We continue to take SUBSCRIPTION payments in £ Sterling, US dollars and Euros, for membership of the WSM Website.
The Subscription site does not include access to new movie/images Downloads in the Online Store, which we have added during the last two years or any XXX movies.
Since 14th April 2017, Movies and Image sets added to the WSM Online Store under 'WSM Movies & Images' are added also to the Subscription site, 2 years after being added to the Downloads.
Look at the JOIN NOW page to see our great value for 30 day, 3 month and 6 monthly Subscriptions as for a Subscription you can access:
252 Movies averaging 30 minutes each, including 18 Messy Wrestling Movies and 61 Custard Couple Movies, (which include 21 joint productions with WSM),
15 vintage movies and 158 normal WSM movies (excluding 21 duplicated joint production movies with Custard Couple).
PLUS 42,247 Images in 424 sets (being 154 W + 193 S + 77 M).
But if you want to see all these Movies and Image sets, then you need to take a Subscription to become a Member.
Click here to see Join costs!