For our Wet set, we look again at W302 with Mrs. Custard Couple (CC) with 60 Enhanced images titled 'Sea Beauty', but sadly no movie was shot at the time.
Our sexy Asian lady Jade caused a stir with her muddy tidal pool shoot last week.
But, oh dear! More shrunken pics! So we will re-run that muddy set soon with Enhanced images!
But here is an unusual Jade set with movie WSM121 and we now have 263 Enhanced images in set S286, with Jade and Betty in slapstick lesbian play!


We still take Subscriptions to our Website – Memberships extending for up to 6 months are available. Subscription prices will change from 13th October.
CLICK HERE TO TAKE A SUBSCRIPTION TO THE WEBSITE
SEE ALSO THE WSM ONLINE STORE (no membership required)
Click on movie and page down for full description and sample images.
FOR 50 VINTAGE FILM DOWNLOADS
PLUS 71 New 'WSM Movies plus Images'
PLUS 16 Movies with Images transferred from the Subscription Website and now also available as Downloads
and XXX section with 61 MOVIES with Images, only available as Downloads.
Do you know what happens when you purchase one of the above Downloads?
You are given your own personal user code with Verotel.com
If you purchase further, these are added to your account.
You can access your movie and image downloads at any time via Verotel.com
Do you have Security concerns on your computer?
Here you have a ready answer as all your download purchases are held with Verotel.com
To enter the Verotel download site, access is through https://wsmprod.com/content_area.php (note, underscore after content)
This only applies for purchased Downloads.
GIVE IT A TRY.
CLICK HERE TO GO TO THE WSM ONLINE STORE

We also have a UMD STORE and transfer MOVIES and IMAGES regularly
CLICK HERE TO GO TO THE UMD STORE




SUBSCRIPTION WEBSITE
WETLOOK
This week we have revisited a great wet shoot from Mrs. Custard Couple (CC).
This is an Image only set as no video was taken.
Image set W302 with 61 shots (had still to be enhanced) was shot in our favourite style, outdoors!
So we reworked this set, ending up with 60 Enhanced (Full Screen) pics.
WSM just love this set, as where can you go in Great Britain to have a panoramic beach view, yet no people? And it does end with some rather sexy shots!
The set is titled 'Sea Beauty' and you will see why!

But let Mrs. CC take up the tale:
"Bring on the Summer I hear you all say, for what better way is there to enjoy long, hot, lazy days of summer than a fully dressed, relaxing soak in the sea!
A mid afternoon stroll along the sea shore, dressed in my summer polka dot dress and new underwear, was too good an opportunity to miss!
There appeared to be no-one about, but I'm sure they are there. I can sense them wondering, would she, wouldn't she! No! Surely she would not get wet like that!
But they do not know Mrs. CC!
For ooooh hell….. yes I will!!!
The first sensations as my dress soaks up the water …..slowly wading deeper and deeper, dropping to my knees, not caring who is watching me, as I lose myself in the wetness!
My dress is now clinging to me as my panties get their first wetting, and I gasp in excitement and ecstasy……God! I could almost cum at the feeling!!
My dress clings to my body as I enjoy the whole experience!
Mr. CC looks flushed but continues to snap away to record my wet fun.
Urged on by Mr. CC our shots become more daring as I strip to my undies.
Soon my tits pop out of their bra in sheer excitement, while my wet knickers cling like a second skin!
A bit more water, then sand!
It is all too much for Mr. CC who places the camera with his shirt and races into the surf.
He wades out and stands beside me, his hands all over my body and into my sodden panties!
In waist high water, we both rub each others sex organs through our clothes, savouring the outside freedom and how the water hides our actions.
Before long, we are both climaxing under the water as we enjoy each others wet underwear and clothes!
So here's to long, hot, wet and sexy summer days with the enjoyment and freedom of wetting our clothes whenever and wherever we can!"

To bring Mrs. CC's wet adventure to life, we show you 4 Enhanced sample shots from image set W302 Sea Beauty. Wow! The shoot looks as good as it reads!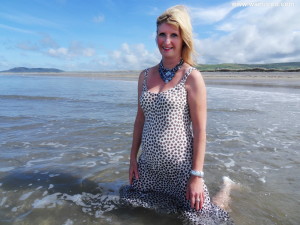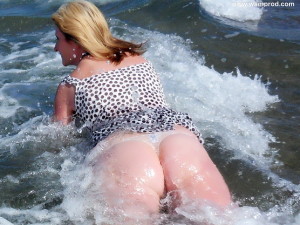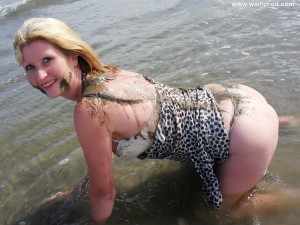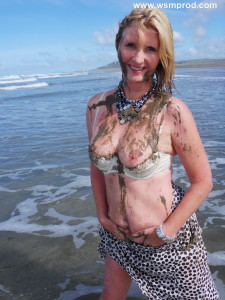 We continue to take SUBSCRIPTION payments in £ Sterling, US dollars and Euros, for membership of the WSM Website.
The Subscription Website does not include access to new movie/images Downloads in the Online Store, which we have added during the last two years.
Since 14th April 2017, Movies and Image sets added to the WSM Online Store under 'WSM Movies & Images' are added also to the Subscription site 2 years after being added to the Downloads.
Look at the JOIN NOW page to see our great value for 30 day, 3 month and 6 monthly Subscriptions as for a Subscription you can access:
246 Movies averaging 30 minutes each, including 18 Messy Wrestling Movies and 57 Custard Couple Movies, (which include 21 joint productions with WSM),
15 vintage movies and 156 normal WSM movies (excluding 21 duplicated joint production movies with Custard Couple).
PLUS 41,444 Images in 417 sets (being 152 W + 190 S + 75 M).
But if you want to see all these Movies and Image sets, then you need to take a Subscription to become a Member.
Click here to see Join costs!