Very infrequently do we have a follow-on movie and that is the case to-day.
We review again movie CC106 'Shrink 1' featuring Custard Couple (CC) in further role play, then we premiere the new 'Shrink 2' movie CC144.
And both movies contain that WSM rarity…..music.
With our change of policy from 14th April 2017, movies posted as Downloads are now added to the Subscription site after 2 years (XXX movies excluded).
The 5th movie is now added to the Subscription site with Wetlook, as mature Dee enjoys a clothed river bathe clad in black top and leggings, in 25 min. movie WSM160 plus 260 images in set W328.
In more Wetlook, we look again at an image set considered as one of Mrs. Custard Couple's best, in W310 'home from the office'.

We still take Subscriptions to our Website – Memberships extending for up to 6 months are available. Subscription prices will change from 13th October.
CLICK HERE TO TAKE A SUBSCRIPTION TO THE WEBSITE

SEE ALSO THE WSM ONLINE STORE (no membership required)
Click on movie and page down for full description and sample images.
FOR 50 VINTAGE FILM DOWNLOADS
PLUS 70 New 'WSM Movies plus Images'
PLUS 16 Movies with Images transferred from the Subscription Website and now also available as Downloads
and XXX section with 61 MOVIES with Images, only available as Downloads.
Do you know what happens when you purchase one of the above Downloads?
You are given your own personal user code with Verotel.com
If you purchase further, these are added to your account.
You can access your movie and image downloads at any time via Verotel.com
Do you have Security concerns on your computer?
Here you have a ready answer as all your download purchases are held with Verotel.com
GIVE IT A TRY.
CLICK HERE TO GO TO THE WSM ONLINE STORE

We also have a UMD STORE and transfer MOVIES and IMAGES regularly
CLICK HERE TO GO TO THE UMD STORE




SUBSCRIPTION WEBSITE/also a download
WETLOOK
This is the 5th movie to be re-posted from the DOWNLOAD site to our SUBSCRIPTION site.
It has taken two years, but now you can now see this movie at no extra cost, if you are a member of our Subscription site.
HD Movie plus Image set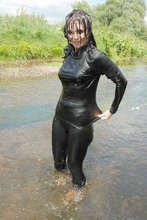 'Dee enjoys a clothed river bathe'

Movie WSM160
Run-time 25 mins 33 secs

3 Sample Clips in HD
3 Streams in HD

This is a typical Mike Ellison river movie.
Of course, so much is influenced by the model, as each girl has her own style.
But how many mature ladies enjoy a wet clothed bathe in the river as Dee does?
She is constantly active……so this is some work-out!
Adding 260 images, this is a great record of Dee's wet play!

Stream 1
When you arrive at a river, you have no idea how deep the water is and how fast the river flows.
Dee wades straight in and splashes about.
The water was reasonably swift flowing and the depth a little shallow.
Just listen to the gentle gurgling of the river throughout this movie.
It is a perfect river for wet shots.
And Dee is very active, lively, exuberant and splashy.
After 3 mins 39 secs she sits down.
Then it is constant splashing, rolling, floating, kneeling getting wetter by the minute.
See Dee starting to get wet – see CLIP 1.
Stream 1 runs 10 mins 12 secs
>>>>> SEE CLIP

 
Stream 2
Dee wets her hair and launches into some very wet clothed play.
There are good wet hair over her face shots.
Although a little too shallow for proper diving, Dee does her best with 5 dives in this Stream.
We show you one of her dives and her wet river fun – see CLIP 2.
Dee remains fully clothed in this Stream.
Stream 2 runs 6 mins 50 secs
>>>>> SEE CLIP

 
Stream 3
Dee removes her top at the start.
After 3 mins she takes her leggings off.
She is now just clad in a black thong and heels.
See her float down the river in CLIP 3.
But this Stream turns very raunchy when after 5 mins 37 secs she removes her knickers.
We have some very revealing shots as Dee is relaxed and quite uninhibited!
Stream 3 runs 8 mins 31 secs
>>>>> SEE CLIP

 
This is one of those movies when a picture is worth a thousand words.
So I have been deliberately brief with this write-up.

MOVIE WSM160 has 3 HD Streams running 25 mins 33 secs.
Stream 1 runs 10 mins 12 secs
Stream 2 runs 6 mins 50 secs
Stream 3 runs 8 mins 31 secs
IMAGE SET W328 has 260 shots
We show you 5 sample images from this set.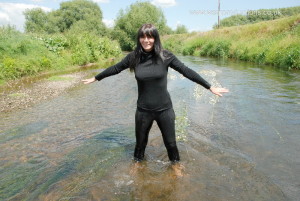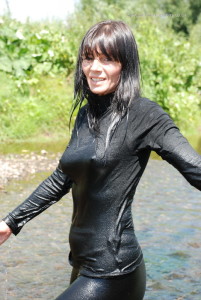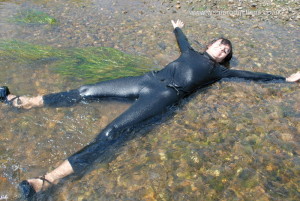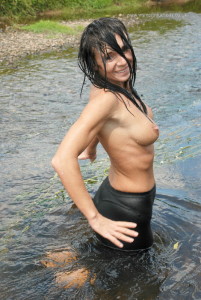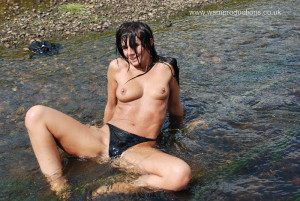 PRICE
£6-20 GBP
$9-30 USD
Euro 8.10

To Purchase go to movie Movie WSM160 'Dee enjoys a clothed river bathe'in the 'WSM Movies and Images' section in the Online Store.
BUT WHY WOULD YOU PURCHASE?
IF YOU ARE A MEMBER OF THE SUBSCRIPTION SITE, then it is now there!





We continue to take SUBSCRIPTION payments in £ Sterling, US dollars and Euros, for membership of the WSM Website.
The Subscription Website does not include access to new movie/images Downloads in the Online Store, which we have added during the last two years.
Since 14th April 2017, Movies and Image sets added to the WSM Online Store under 'WSM Movies & Images' are added also to the Subscription site 2 years after being added to the Downloads.
Look at the JOIN NOW page to see our great value for 30 day, 3 month and 6 monthly Subscriptions as for a Subscription you can access:
245 Movies averaging 30 minutes each, including 18 Messy Wrestling Movies and 56 Custard Couple Movies, (which include 21 joint productions with WSM),
15 vintage movies and 156 normal WSM movies (excluding 21 duplicated joint production movies with Custard Couple).
PLUS 41,206 Images in 416 sets (being 152 W + 189 S + 75 M).
But if you want to see all these Movies and Image sets, then you need to take a Subscription to become a Member.
Click here to see Join costs!